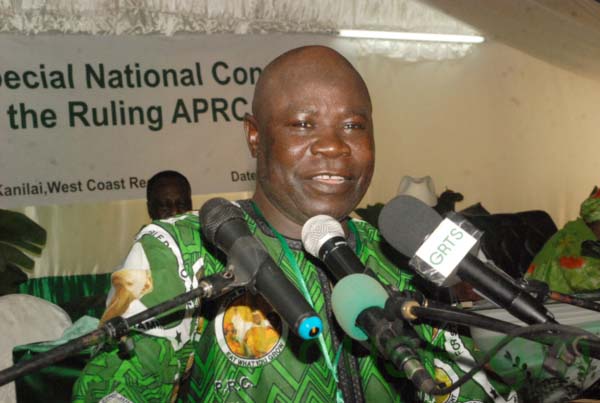 The ruling Alliance for Patriotic, Re-orientation and Construction (APRC) party at the weekend briefed its militants on the upcoming youth rally to be held in Basse, whenever the party leader, President Yahya Jammeh, approves the date.

During the press briefing at the APRC bureau in Kanifing, the party militants were also introduced to the various select committees entrusted to spearhead the rally.
The select committee on media and communication is headed by Momodou Sabally, director general of GRTS, the national broadcaster.
Speaking on the occasion, APRC national youth mobiliser, Babou Gaye Sonko, said the youth rally targets more than 25,000 young people from all the regions of The Gambia.
The meeting will remind the young people on the need to consolidate developments registered in the country by intensifying their support for the APRC party in the upcoming elections, he said.
"I am with the strong conviction that the young people, as the largest population in the country – almost 63% of the population - has a big role to play in the development of the country and the APRC, in particular," the APRC youth mobiliser said.
"I am also urging all those who are selected in the various committees to demonstrate the best of their abilities so that together we can make the day a successful one."
APRC national mobiliser, Yakuba Colley, told the youths that the Gambian leader, President Yahya Jammeh, has had "strong trust" in them since he took over power in 1994.
"The high-profile positions held by young Gambians is a clear manifestation," he said.
Colley, who is also the mayor of KMC, warned the various select committees to understand that "it is not easy to organise such a programme".
"Sometimes you go until you think that you are successful, then everything turns upside and down," he said, adding: "That being the case, I would like all of you to work hand-in-glove to ensure that the rally is successful."
Mayor Colley said as they wait for "the dynamic leader" [President Jammeh] to approve a date for the meeting, all the select committees should start working towards making the day a successful one.
Read Other Articles In Article (Archive)