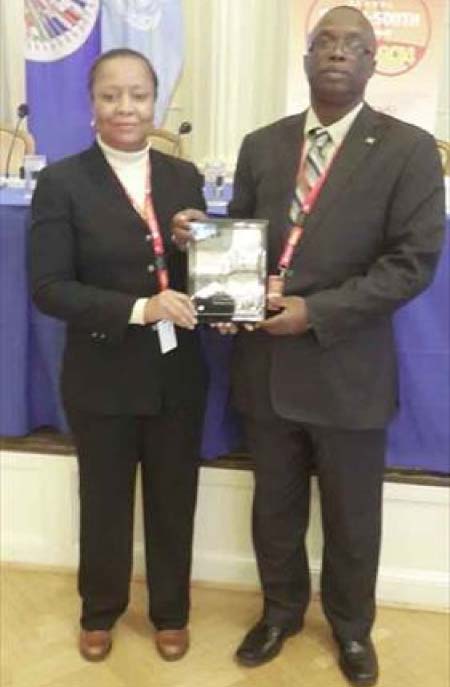 The minister of Health and Social Welfare, Dr Omar Sey, was on Tuesday honoured with the International Leadership Award in Health by the organizers of the 2014 Global South Development EXPO 2014, which took place in Washington D.C., USA, at the headquarters of the Organization of the American States.
Minister Sey returned yesterday from Washington DC, where he led the country's delegation to the event at the invitation of the UNDP country office.
The minister was accompanied by Ismaila Sanyang, permanent secretary at the Office of the President, Mod K. Ceesay, permanent secretary at the Ministry of Finance and Economic Affairs and Ms Ade Mamonyane Lekoetje, UNDP resident representative and resident coordinator of the UN System in The Gambia.
The award is in recognition of The Gambia's exceptional leadership and innovation in the health sector, especially its efforts, contribution and response to the Ebola virus disease (EVD) outbreak in West Africa.
The organizers paid tribute to the Gambia government under the leadership of President Yahya Jammeh for being the first contributor to the AU Ebola Epidemic Fund of One Million United States Dollars donated to the affected countries of Liberia and Sierra Leone.
Upon receiving the award, minister Omar Sey thanked President Jammeh for providing the right leadership, guidance and foresight in shaping the national and regional response to the Ebola virus disease outbreak.
He also paid homage to the national taskforce on the Ebola virus disease, the staff of his ministry, government ministries, departments and agencies that have contributed immensely to ensure an Ebola-free Gambia.
Minister Sey also extended gratitude to the UN System in The Gambia, the private sector, NGOs and other partners, as well as the general public for their invaluable contribution to and cooperation with the health sector.
Read Other Articles In Article (Archive)