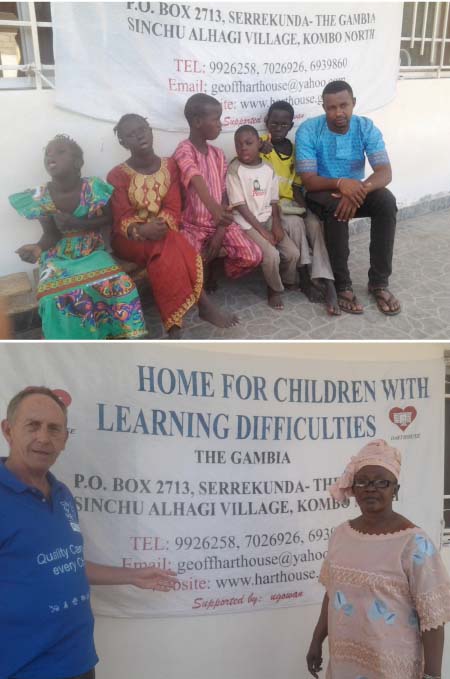 Hart House: Home for Children with Learning Difficulties has been taking of care and providing for mentally handicapped children since 2001 but it now seeks support to continue doing so.
The organisation has its centre in Sinchu Alhagie, Kombo North, and it was founded and run by Geoff Hunwicks, a British national, as the chief executive officer, with his Gambian wife, Rohey Hunwicks, as the managing director.
Hunwicks set up Hart House after he sold his family house in England, when the parents died, to care of the mentally handicapped in The Gambia.
The centre has since then been registered in The Gambia and has a mutual understanding with the Department of Social Welfare under the Ministry of Health, and a cordial relation with the national rehabilitation centre in Banjul.
Presently, there are at least 25 children between the ages of 5 and 15 mainly from Bakau, Brikama, Fajikunda, Kanifing among other settlements.
"Coincidently, most of the children here are without father either because of divorce, death or he had travelled to Guinea Bissau and never come back," Mr Hunwicks said.
Hart House basically takes care of mentally handicapped children and gives them "holistic support" to be able to do certain things on their own.
"Often times, people confused mental handicapped with mental illness; there is a difference between the two," CEO of Hart House said."Mental illness is a condition that can be treated while mental handicap is a brain damage; the brain damage cannot be reverse."
Since mentally handicapped children cannot read and write and some of them cannot even put on clothes or take bath by themselves, so at Hart House, they are prepared not to be burden to their families.
At the centre, children are given self-help on how to use their limps, socialise with friends, lace their shoes, brush their teeth, take bath, button clothes, put on clothes, etc.
"We help them with some basic household chores so that they can be independent in such areas and we also do sign language for those with speech impairment," Mr Hunwicks said.
The children who are physically handicapped, also, do physiotherapy as recommended the physiotherapist at the hospital in Banjul.
The managing director, Mrs Hunwicks said when the children reach 15 years, they are taken back to their people.They are graduated.
Meanwhile, at the centre, normal children are sometimes allowed to join the mentally handicapped in their activities so that they integrate with each other and that helps for easy adaptation into society after graduation, when the children are returned home.
"To us, returning the children is unfortunate but we can't help it because we don't have enough fund to be able to maintain them beyond that age so we leave them to go home," she said.
"Initially, we wanted to set up a satellite unit where after here they will be going for another stage but that could not work due to funding," the MD said.
However, the main pressing concern for Hart House for now is not the satellite unit, though important, but the continued sustainability of the current centre.
"The most difficult challenge for us at the moment is food, the everyday meal of the children, and salary of the staff," Mrs Hunwicks said, adding that the centre has 15 staff and the children take three meals a day.
Currently, the operation of the centre is mainly supported by the friends and colleagues of the founder as well as organisations and institutions mainly in The Netherlands but also in England, USA, and Finland, among other countries.
"Also, we do get random support from tourists who used to pay a visit here and appreciate our work," the MD said.
However, she lamented that since last year, the support from tourists has declined significantly because the tourism season has not been good and that makes operation at Hart House much more difficult.
"We are appealing to everyone who has a great heart to extend a helping hand to us," she said."Like any other children, mentally handicapped children have right to live a better life."
Mrs Hunwicks emphasised that help from any person or institution in cash or kind will be appreciated.
On its website, Hart House said although it costs £20 a month to sponsor a child at the centre, any amount will be a real help.
"We have one elderly lady who pays £2 a month from her pension and that really makes a difference," they said on the website."Hart House needs a 'regular' income and if we can get a number of regular payments coming in then it would make things a lot easier."
Playground donation
Meanwhile, two playground swings were recently donated to Hart House by Gambia Speelt Mee, a Dutch charity foundation that mainly gives playgrounds and desks to schools in The Gambia.
Read Other Articles In Article (Archive)