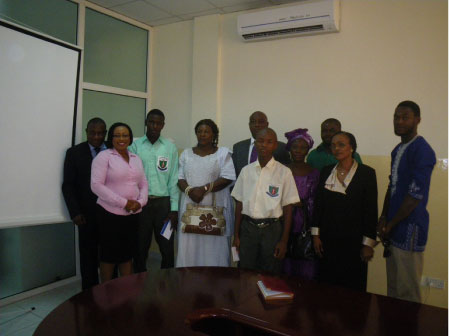 Following a six-month intensive inter-school radio quiz competition hosted by Afrinity Production on West Coast Radio 2, and sponsored by Bank PHB, two outstanding students, Seedy Ndow of Glory Baptist Senior Secondary School and Mousa Kai-Samba of Glory Baptist International School received Bank PHB prizes.
The bank decided to award the winners as an encouragement and support to the education sector in the country.
The first winner, Seedy ,was given a savings account with an opening balance of GMD10, 000, while Mousa received a savings account in his name with an opening balance of GMD5,000  as the first runner-up of the competition.
In his welcoming remarks, one of the organizers of the competition Adams Wilfred the presenter of Afrinity Production on West Coast Radio 2, expressed delight with Bank PHB for supporting the education sector in the country.
He said such programmes take students beyond the school and also expose them to radio programmes.
In the first edition of the competition, he said, thirty two students participated and on the second edition thirty-two students participated all within the greater Banjul region.
Chidi Ogbolu, country head of operation at Bank PHB, said their flagship customer service relations (CSR) initiative, which is education, does not only provide annual scholarships to brilliant and indigent students but extends to the sponsorship of educational programmes such as school debates and quizzes.
He added that the programmes are expected to expand opportunities for student entrepreneurship as well as enhance their academic success.
"We believe that Bank PHB should be able to do more in this area as it gives students the opportunity to build their confidence, educate each other and learn new skills," Mr Ogbolu said.
The bank's initiative falls in line with its CSR scheme, which made them enthusiastic on sponsoring the programmes which has been on West Coast Radio 2 for the past six months, the country head of operations said.
He also said that since the establishment of the scheme, the bank has spent a significant amount of money on the scheme and about D150,000 alone on the quiz competition over the past six months.
Bank PHB will continue to be actively engaged with Gambian youths and will focus on the pro-active orientation of the Gambian youth as a pivot for socio-economic change in society, he added.
"We commend Seedy and Mousa for taking part in the quiz competition and congratulate them for being the top two outstanding students," Mr Ogbolu said.
Read Other Articles In Article (Archive)