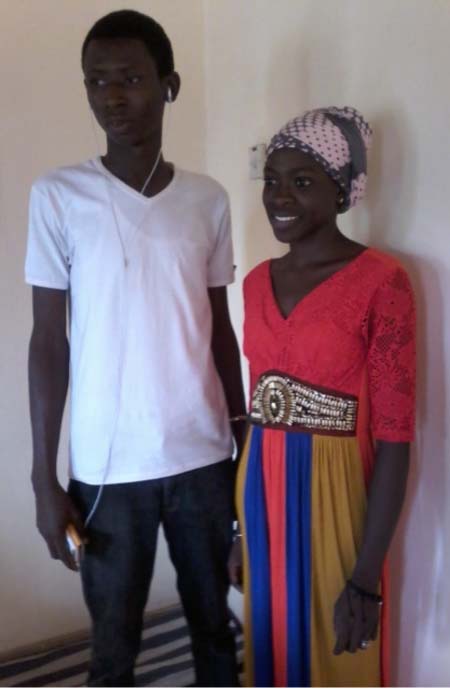 Two GYIN members, Jainaba Manjang and Modou Lamin Sanyang, left The Gambia on 26 August 2015 for Ghana and Nigeria respectively to undergo training on carpentry and horticulture.
Ms Manjang is the administrative secretary of the GYIN-Gambia Secretariat in Churchill's Town, and Mr Sanyang is a member of the GYIN-partner-organisation, Kapongha Youth Development Association at Bullock village, Foni Berefet District of the West Coast Region.
The two made the programme following a rigourous selection process by Ace Communications Executive, organisers of the programme, to provide opportunity for youth in the ECOWAS countries of Ghana, Nigeria and The Gambia to undergo exchange training programmes in each of the three countries.
The initiative, called The Youth Traineeship Exchange Program (YTEP), seeks to build the capacity of youths for self-sufficiency and socio-economic development, according to Ace Communications Executive.
Mamadou Edrisa Njie, GYIN Gambia National Coordinator, said: "I am happy to announce that two of five of our members who went through the application process have been selected."
He explained that Ms Manjang will undergo a six-month training in carpentry in Ghana, and Mr Sanyang will be trained on agriculture (poultry, horticulture and livestock) in Nigeria within the same period. GYIN-Gambia facilitated their participation.
"This laudable initiative will give them (and other selected youth) the opportunity to become self-sufficient by learning practical skills and gain work experience in a country different from their own," Njie said. "It will contribute immensely to the emancipation of these youth from the shackles of perpetual unemployment and poverty – just as we have been trying to do at GYIN."
An Ace Communications statement indicated this month that the programme "is designed to yield direct benefits to youth after their traineeship by way of arming them with livelihood skills, knowledge on entrepreneurship and motivation to apply their skills in order to become economically resilient and contribute to rural development."
"This project will present youth in the rural areas an opportunity to be trained for six months with the aim of averting the high rate of illegal migration of youth, especially those from the rural areas," it stated.
It is a full scholarship programme for 75 participants (25 participants from each of the aforementioned countries); tuition for training, international flight, general welfare and tools upon the completion of the programme.
Manjang and Sanyang are among the 25 young participants from The Gambia (to be divided into two groups) to be trained in carpentry in Ghana and agriculture in Nigeria. Also, the 25 participants from Nigeria (divided into two groups) will travel to The Gambia to be trained on tailoring and to Ghana to be trained on carpentry, while half of the 25 participants from Ghana will travel to Nigeria to be trained in agriculture and the other half will be in The Gambia to learn tailoring.
The YTEP benefits include the following: gain practical, relevant training and experience; learn to integrate and work within a diverse workforce and location; on the job support on training and trade; to be empowered and inspired; and become part of a solution to avert illegal migration and give the youth an opportunity to unleash their potentials.
About GYIN Gambia
The Global Youth Innovation Network Gambia Chapter (GYIN Gambia Chapter) is a National Youth Organisation that supports rural youth on entrepreneurship, agri-business, innovation and leadership to become self-reliant.
The network is the legitimate national representation and chapter of the USA Washington, DC-based Global Youth Innovation Network International (GYIN International).
GYIN Gambia aims to contribute to poverty reduction among poor rural youth in The Gambia through exposure to opportunities and business prospects, innovation, and knowledge on replicable youth successful models income generating and to enable them to create and engage in sustainable small scale agri-businesses and entrepreneurship.
The network is a charitable organization and non-political or religious in its efforts to provide opportunities to develop and improve the lives of the many young people in the country.
The general objectives of the network are to create and support an enabling environment under which young people in country can act on their own behalf and terms, and to facilitate exchange of experiences, learning and networking for young entrepreneurs.
Read Other Articles In Article (Archive)