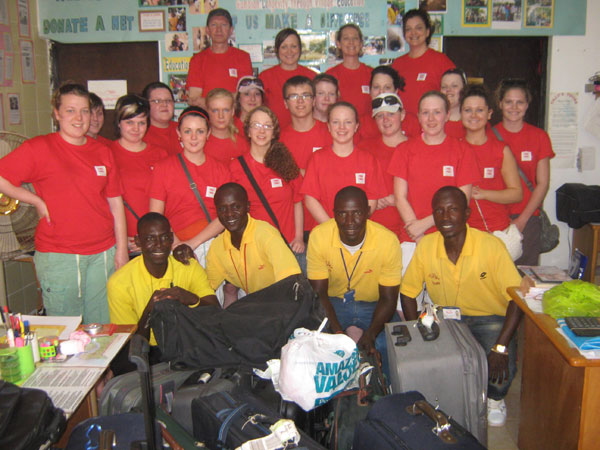 A group of students and lecturers, including seventeen students and four lecturers from Gwent College in South Wales United Kingdom is currently on a weeklong visit to The Gambia.
In what they referred to as their contribution to the development of education in the country the visiting students over the weekend donated 21 suitcases containing clothes, educational materials, footballs, toys, among other items.
The delegation was led by Leanne Johnson one of the senior lecturers from Gwent College UK, who delivered the donated material to various schools and health centres, namely Sanchaba Sulay Jobe, Ceesay village, Serekunda Heath Centre, Aslauy Nursery School in Sukuta and GTTI.
Speaking at Tilly Tour office, the head of the delegation, Leanne Johnson stated that the students are medical students, studying child health care in Gwent College in South Wales, UK.
According to her, the purpose of the visit was for the students to change environment and to figure out the difference and to experience the Gambian culture and tradition. According to Madam Johnson, the donated material come through Tilly Tour Foundation Glove in The Gambia and was meant to complement government efforts.
Also Madam Tanya Johnson another lecturer at Gwent College revealed that "they are closely collaborating with Tilly Tour in The Gambia and are intervening in three key areas, namely health, agriculture and education."
According to Johnson, this is going to be an annual thing, as they will henceforth visit The Gambia every year.
She noted that with the conducive environment here in The Gambia, plans are underway to expand and extend their gesture to other areas that are in need.
Jackie Church, the founder of Glove Foundation commended Leanne Johnson and the team for their support to the foundation.
For her, students have shown a very high standard of professionalism and discipline during their visit.  She also revealed that the students had donated 2,000 Pound, equivalent to more than D80, 000 to the Glove project.
Other speakers included Stephen Boyland, Delia Radriguez and Abdoulie Corr, all of whom expressed joy and appreciation of their visit to The Gambia and promised to come back.
Read Other Articles In Article (Archive)