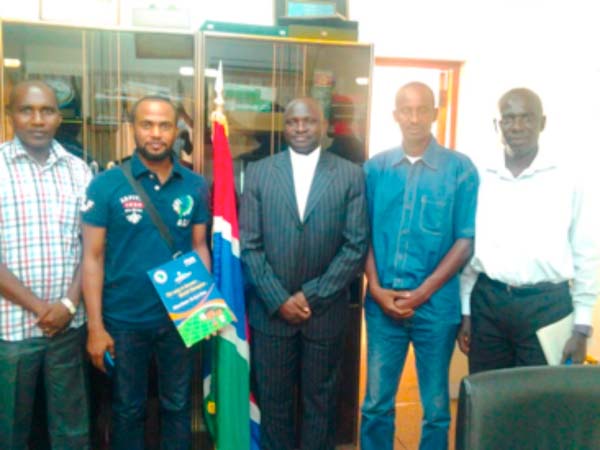 The Gambia Volleyball Federation (GVBF) on Monday had a daylong consultation meeting with Interior minister Ousman Sonko, GNOC president Momodou Dibba and Sports Ministry deputy permanent secretary Abdoulie Kah as events marking CAVB's first inspector's visit to The Gambia to inspect the million dalasi Africa Dream Project.
Speaking to volleyball federation executives at his office, GNOC boss Momodou Dibba reiterated his continued support to Gambia Volleyball Federation.
He urged GVBF to put more efforts and preparedness in the implementation of the project. "I am aware of the progress being undertaken at volleyball federation and I am ready to support in all sectors," he said.
"The beach volleyball team is in the course of the Rio Olympic qualifications and we are hoping to see the team in Brazil next year," he added.
"I assure you of the GNOC's fullest support to the Olympic team and if we qualify the Gambia beach volleyball team will have the best kits at the games."
The deputy permanent secretary at the Ministry of Youths and Sports, Abdoulie Kah, in his remark, applauded the federation and assured the CAVB inspector of their tireless support and frequent monitoring of the project.
"The Africa Dream Project is a national programme and the ministry will do its best to monitor this project for the benefit of Gambian kids," Kah echoed.
The minister of Interior, Ousman Sonko, commended the Gambia Volleyball Federation for decentralizing the sport to provincial Gambia.
Minister Sonko applauded the transparency at the national federation and urged the federation to continue on that trend.
"This project as far as I am concerned is one of the most successful sports development projects in The Gambia, and that is the reason why I took it very important to launch the project last February," Minister Sonko said.
Read Other Articles In Article (Archive)