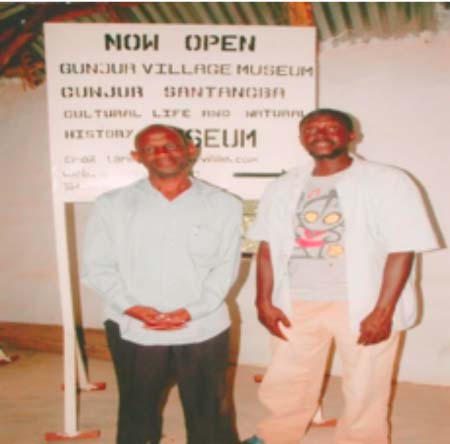 A museum for the preservation and conservation of natural and cultural history for the young ones and generations yet to come has been established in Gunjur village.
Lamin M Bojang, founder of the museum and a resident of Gunjur, yesterday told The Point newspaper that the new museum is also a place for research for students and any other person interested in natural and cultural history.
The building of the museum started in 2008 but it was completed late 2015.
Mr Bojang said it could not still be officially opened because of some financial constraints to do the finishing touches.But most of what is needed to get the museum fully operational has now been taken care, thanks to the generous support of some white people.
The museum, which will be officially opened in October 2016, was recently made accessible to some student volunteers from Norway who were doing bachelor's degree in travelling and tourism.
Mr Bojang said in the process of establishing the museum, he encountered so many challenges.One of his main challenges was people's general lack of or inadequate understanding of some of the main cultures and traditions.
He also grappled with financial constraint.He said he had contacted so many people for support but the response has not been very positive.
"That is why the construction took some years," he said.
However, Mr Bojang acknowledged the technical, not financial, support rendered to him in the process of establishing the museum by the government.
"They [the government] gave me technical support by inviting me to workshops and trainings to increase my knowledge on culture and tradition," he said.
The museum founder said the museum is for the people of Gunjur, The Gambia and Africa at large.He said students doing sociology termed the museum as their entry point as they will be coming to the museum to be told the social structures of certain things in the museum.
"The museum is for everybody so we should all take care of it and try to work together its sustainability," he said.
Mr Bojang is billed to attend a conference in Holland, this year, on how to attract students and other people in Europe to the museum.
Locally, when the museum is formally opened, Bojang said he will be working with the teachers and the University of The Gambia so that the museum can be used by students for their cultural and traditional researches.
"This is a unique museum in The Gambia because it is the only indigenous and natural history museum in the country," Mr Bojang said."It has indigenous Gambian spices and that makes it different from other museums in the country."
Read Other Articles In Article (Archive)