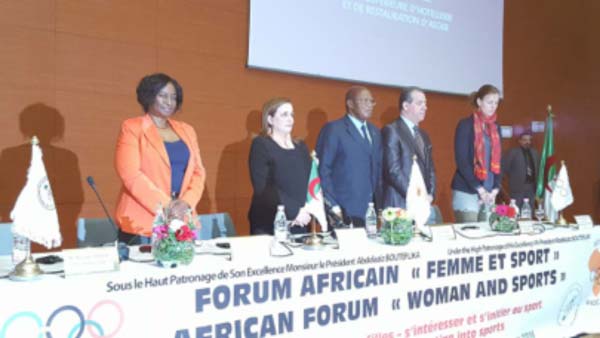 The Gambia's International Olympic Committee (IOC) member, Miss Beatrice Allen, has revealed that the most sustainable way of getting women into sporting structures is to be elected into National Federations' executives, and from there, get into the National Olympic Committees (NOC) and the International Olympic Committee (IOC).
She said the IOC quota system has been very effective in getting women into sport, and since then they have seen women being co-opted into executive positions but the missing link in this endeavour is the inclusion of the National Federations, who must be engaged by the National Olympic Committees, to see more women elected into executive positions of national sports associations/federations.
Ms Allen, who doubles as chairperson of Association of National Olympic Committees of Africa (ANOCA) Women in Sports Commission, made these remarks on 18 January 2016 in Algiers, Algeria, in her keynote address at the opening of a two-day African Women in Sports forum organised by ANOCA.
Ms Allen, who is also the 1st vice president of GNOC, said one of the missions of the IOC, is "to encourage and support the promotion of women in sport at all levels and in all structures with a view to implementing the principle of equality of men and women".
This, she said, is based on one of the fundamental principles of Olympism, which states: "The practice of sport is a human right. Every individual must have the possibility of practising sport, without discrimination of any kind and in the Olympic spirit, which requires mutual understanding with a spirit of friendship, solidarity and fair play."
The Olympic Charter, therefore, creates the policy environment for women's right to sport and development.
"On the basis of which ANOCA has developed and adopted a blueprint for women and sports development in Africa."
Under the leadership of the president, General Lassana Palenfo, ANOCA has endeavoured to support and promote women and girls in sport, and have launched multiple women's leadership training programmes as well as support the WAS Commission meetings over the years.
Ms Allen said some key ones of such meetings are: the Luanda Women's Leadership training and forum in 2010; the Harare Forum in 2012; the IOC World Conference on women and sports in Los Angeles in 2012, and the Kuwaiti WAS Forum for Africa-Asia in 2013.
Ms Allen also pointed out that in the ANOCA Blueprint the major challenges confronting African women and girls have been established as follows:
Limited opportunities and marginalization
Negative attitudes, stereotyping, and not being taken seriously
Lack of recognition or acknowledgement
Outright prejudice and double standards, biases or favouritism
Competing demands and difficult sacrifices
Negative effects of cultural and other social expectations
Lack of resources and other support such as empowerment
Failure to exploit existing opportunities
Women not supporting other women ("pull-her-down" syndrome)
Limited capacity and minimal professional self-development
Few role models available, coupled with limited formal mentorship and guidance
Poor networking
Lack of confidence, self-esteem, and belief in oneself
Resistance to change
Ms Beatrice Allen finally called on ANOCA Leadership to continue to intensify their efforts in resource mobilization, empowerment programmes, and the financing of sensitization and advocacy programmes for women and sports development in Africa.
Read Other Articles In Article (Archive)