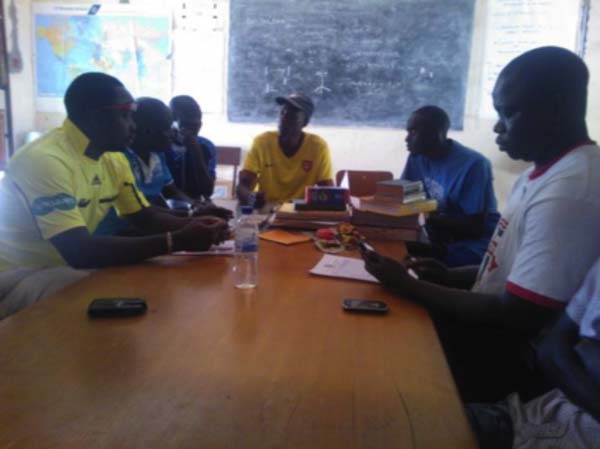 Gunjur Sports Committee (GSC) on Saturday held the 2014 Gunjur Intermediate football tournament review congress at the Gunjur Health Centre, as the summer's biggest football jamboree is fast approaching in the country.
The review congress brought together club delegates and Gunjur Sports Committee executive members to evaluate and review the 2014 Gunjur Intermediate football tournament.
GSC and team delegates also discussed the formation of intermediate committee with its structure, club owners' structure, rules and regulation , cost of games and prizes, the timing and registration of the tournament as well as capacity building technical training for coaches.
Speaking at the review congress, GSC's second vice president Momodou Charreh Jibba thanked all the clubs for responding to the call to attend the review congress, adding that the 2014 Gunjur intermediate football tournament was trouble-free.
Jibba also hailed Karamo Badjie, Salieu Njie, Omar Gibba, Alagie Jassey, Abou Jassey and Old Pa for their contribution to the success of the tournament.
Jibba stated that fifteen teams registered for the 2014 Gunjur intermediate football.
He also said the winners for the league received D4,000 and the runners-up received D3,000, whilst for the knockout the winners received D1,500, and the runners-up D1,000.
Jibba said the best player and leading goal scorer received D200 each, whilst the most disciplined team received D500.
For his part, GSC president Lamin Darboe applauded Momodou Charreh Jibba and sub-committee for their commitment and dedication during the tournament, adding that it was organised to stop young players playing senior nawettan at tender age, which could cause them injury, and harm their career.
Darboe described football as a profession that could make someone become a millionaire, whilst encouraging the players to maintain discipline to realize their aspiration in future.
He also commended the clubs for their cooperation during the tournament, saying it was violence-free.
Read Other Articles In Article (Archive)