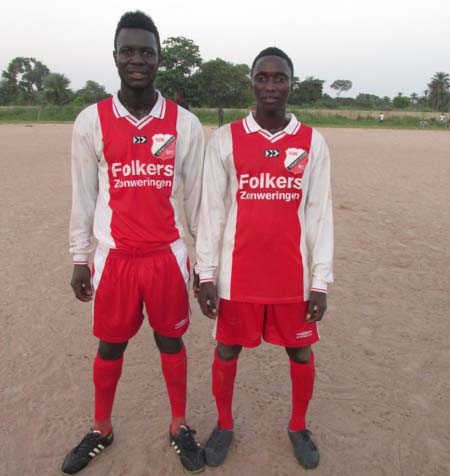 The 2014-2015 Gunjur re-scheduled knock-out finals has been slated for Saturday 27 December 2014, at the Gunjur Nyamina football field following the completion of the Super Nawettan zonal football championship.
The much-awaited finals will feature Solifo Investment FC and Farms Engineering and Construction Company FC from neibouring Kartong village, and has been described by many football enthusiasts in Gunjur and environs as a mouth-watering clash.
The final was re-scheduled after a 1-all stalemate in the finals played last month.
Kemo Suwaneh gave the visitors Farms Engineering the lead a few minutes after the interval, before substitute Sheriffo Jatta aka Chicko levelled the scores for Soilfo Investment FC in stoppage time to cancel Kemo Suwaneh's opener.
Solifo Investment FC made an astonishing start to the knock-out competition following their 1-0 win over debutants FC Halifax Town in the first round, courtesy of top-scorer Yaya Touray aka Rapa.
Solifo Investment FC thumped Kajabang 2-0 in the quarter-finals with goals from top-scorer Yaya Touray and Ousman Sawaneh.
Solifo Investment FC booked their ticket to the finals when they came from one nil down to beat the cellular giants, Gamcel, FC 2-1 in the semi-finals with goals from Memba Manneh Christ and Yaya Touray after Mbemba Fatty gave Gamcel FC the lead in the first half.
Farms Engineering FC also made a stunning start to the knock-out, following their early exit from league competition after a penalties shoot-out win over Sunderland FC, following a goalless in regulation time in the first round.
The Kartong-based outfit beat World Eleven 2-1 in the quarter-finals, before beating Late Dembo FC 1-0 in the semifinals.
Both sides will be coming all out for a win to clinch the knock-out title.
Read Other Articles In Article (Archive)