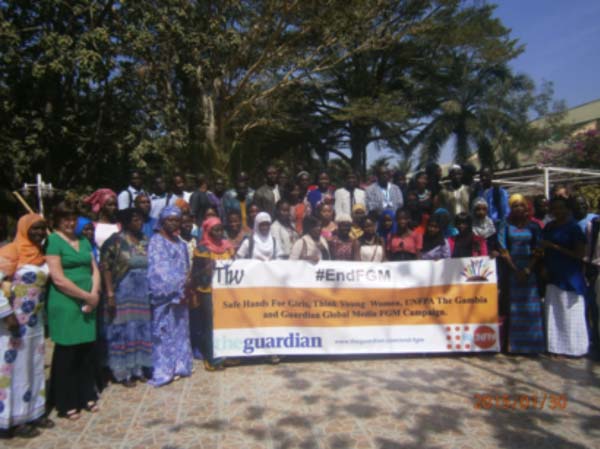 The Guardian in collaboration with UNFPA The Gambia, Thing Young Women (TYW) and Safe Hands for Girls (SHFG) Friday launched the Guardian Media Campaign to End FGM in The Gambia, at a ceremonyheld at the Senegambia Beach Hotel in Kololi.
The Guardian is a global media organization and one of the most influential media leaders in the world, with a greater reach than The New York Times.
Speaking at the launching ceremony, Jaha Dukureh said about two years ago, she started writing about FGM by blogging online and talking to friends about it on social media, including some of the ideas about women.
The first article that was published about her was in the 'New York Daily' news, and when the article came out the reaction from the community in both US and the Gambia was tremendous.
She added that people were saying that she was lying, that she has no effects from FGM, that what she was saying was not true, and that she was just trying to tarnish the image of their culture and going against the religion.
Even in her family, she was afraid to talk about it, and when that article came out because of the backlash it created, she was depress and was not ready to talk to anyone because her own people turn against her, and she decided not to say anything about FGM again.
For one year, she added, she was silent and did not write anything on FGM on her blog.
Then she came to The Gambia to visit and, when she went back to the New York, she realised how much she cares for the issue, and did not let what people feel about what she was doing influence her.
She kept on moving, started a petition in the US, and the Guardian came and backed her petition.
They were able to convince Barack Obama to do something about FGM in the US, and with support of other survivors of FGM, they were able to give a voice to the voiceless, she went on.
The world leaders listened to them, and gave them a platform, she added.
Ms Fatou Kinteh, UNFPA national programme officer gender, said through the support of international organizations, NGOs, civil and human rights groups awareness creation activities on the health and reproductive health complications of FGM are conducted in communities, which includes declarations of abandoning the practice.
Through advocacy, the policy-makers and governments have put in place legislation against FGM, she added.
She said with or without legislation, sensitization, training and advocacy for FGM to stop would continue.
They have come a long way in the campaign, and they must not relent in their efforts to help further protect women and girls, she continued.
The media, be it print, electronic or traditional are all-important in creating awareness to influence change. The important thing is to have a thorough understanding of the subject matter, and to know and understand their audience, she further stated.
Ms Kinteh added that with that information one could communicate to their audience without offending them, especially when dealing with culturally-sensitive issues like FGM.
She added that as an awareness creation and advocacy body, the role of the media in its effort could not be overemphasized.
The media could play an important role in creating awareness on the harmful effects of FGM.
FGM poses short and serious long-term health effects for the health of women and girls, and it is imperative to provide support for those who have been subjected to this practice, she said. 
Read Other Articles In Article (Archive)