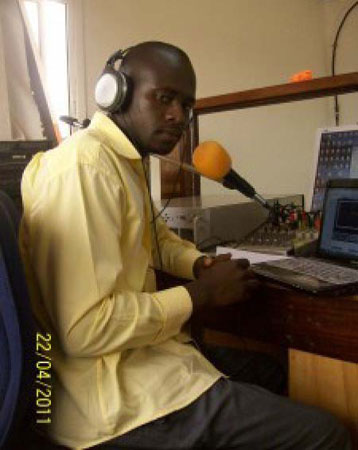 Hon. Seedy Njie, a nominated member of the National Assembly, recently presided over the launching ceremony of the newly established sports website called sports Gambia.com located at Kombo Sillah Drive Highway.
In his launching statement, Hon. Njie thanked Sarra Camara and his team for coming up with the website and urged them to be factual in whatever they report and also to be current while using the opportunity to urge the team  not to limit their reporting on football but also go in for other disciplines.
He says the launching of the website will serve as a form of employment and income generating venture for the youths of the country.
"The establishment of Sports Gambia website is a step in the right direction and I believe it will help in creating employment for the youths to stop risking their lives in the back way in search of greener pasture," said Hon. Njie.
The managing Director of Sports Gambia.com, Sarra Camara, in his statement commended  journalists from different media houses for attending the remarkable occasion.
"Sports Gambia is a common outlet for sports lovers who want to capture every buzz in the sporting activity of their choice and require some in-depth knowledge about it," he said. "Also, to know more about the players and major contests, Sports Gambia serves the purpose quite effectively as compared to the media houses in this country."
"A lot of useful sports related information in the form of reports, reviews and tips on diverse categories of sports can be found on Sports Gambia website," he stated.
"Sports Gambia will utilize its maximum potential to satisfy the entertainment needs of sports seekers around the country. Sports Gambia is entirely dedicated to sports reporting," he said.
Sarra said that for effective sports reporting it is mandatory to cover each sport with comprehension. "This requires a thorough knowledge of sports and a new story, like other forms of news," he said.  "The reporters have to search out a new story each day."
He said Sports Gambia reporters and editors are dedicated to delivering quality information and will pave the way for all to get to the most authentic news as per user requirement.
"The increased usage of new media technology, sports portals and blogs are the most-convenient illustration of this trend," he highlighted.
Easy and quick availability of news, reviews, fixtures, articles, pictures and video clips makes an online sporting news magazine more successful in the target audience. "This is the reason for the establishment of this website," said the former KWT Radio sports producer and presenter.
Baboucarr Camara, editor-in-chief of Sports Gambia.Com, said the establishment of the website is meant to contribute their quota towards the development of sports in the country.
Read Other Articles In Article (Archive)