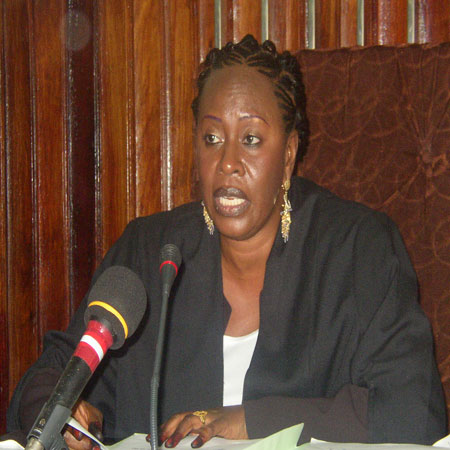 As preparations for this year's groundnut trade season draw near coupled with the seemingly continuous experience of poor groundnut trade for the past number of years in the country, the issue as to where farmers will market their produce was on Monday the centre of deliberations at the National Assembly.
In seconding the motion for adoption of the report of the 54th CPA conference held in Malaysia, Honourable Momodou Sellu Bah, National Assembly Member for Basse, said that as the trading season was near, something urgent had to be done to discourage cross-border selling of farmers' produce.
He noted that everybody in the world agreed that there was a global food crisis, but that the impact would hit Africa hardest. He maintained that if there is no proper control mechanism put in place, it would be very difficult to maintain the food security status of the nation.  Hon. Netty Baldeh, National Assembly Member for Tumana, who had a different opinion, said that it is not for nothing that farmers sell their produce across the border, but because there is no market for their produce. He noted that unless The Gambia is prepared to establish a market for farmers' produce the situation would remain the same.
According to him, all countries in Africa have announced prices for groundnuts, but The Gambia is yet to do so.
He maintained that farmers could not keep their produce in the name of food security while their economic gains are threatened by the lack of a market.
He explained that the poor producer prices that farmers get have crippled the visibility of groundnut production, posing a major threat to food security in the country.  He asserted that poverty could only be reduced in the country if the right approach was taken.
"Many a time farmers' produce are left unsold as there is no market for them,"  he added. He concluded that there must be a market, as this would reduce the problems of side marketing and food insecurity concerns.
Hon. Mama Kandeh, National Assembly member for Jimara however, reinforced Hon. Bah's point of view that the issue is not of integration, but of hunger. He advocated that as representatives of the people they should be ready to go all out to sensitise their people to the issue of food security. "If you have a very good harvest this year, then preserve it," he said.
For his part Hon. Yerro Mballow, National Assembly member for Upper Fulladu, is also of the opinion that a control mechanism cannot be put in place when farmers' produce cannot be purchased.
He equally maintained that farmers, in the grips of uneconomic markets, would be compelled into selling their produce wherever possible. He noted that side marketing has been rampant in the groundnut sector because of unfeasible producer markets and prices offered to farmers.
He called on the government to rethink introducing the co-operative union, from which, he said, farmers were at least getting their monies even though at times very late.
Hon. Abba Sanyang, National Assembly member for Foni Kansala, said that he has heard warning bells, regarding the global food crisis.
He maintained that the food issue is a sensitive one nowadays, and people need to be sensitised, educated, encouraged, guided as well as protected.
He said: "There is financial crisis and there would be food crisis."
Read Other Articles In Article (Archive)