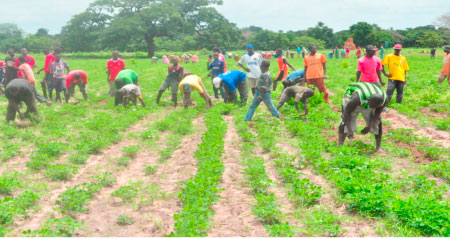 Groups of men and women converged on the University of The Gambia (UTG) groundnut farm at Faraba Banta on Saturday August 17.
The large crowd, mostly members of Faraba village men and women associations, was led by messrs Jenung Manneh and Sainey Keita, two of the university staff members tasked by the UTG Vice Chancellor to lead the university's efforts to farm.
Now that the sowing season is over, the university is concentrating on weeding. Last Saturday's event was graced by the acting Deputy Vice Chancellor, Dr. Omar Jah Jr.
Dr. Jah Jah thanked the youth of Faraba Banta and implored them to continue to do the good work that they are doing, in line with the clarion call of the President. He thanked the President Yahya Jammeh "for helping the university to engage in this very important activity, which will help the university and the country achieve self-sufficiency in food production".
Responding to the association's request for a milling machine and tractor, Dr. Jah advised them to put their request in writing. He thanked the youth for being proactive and urged them to be creative, and avoid being like those who only sit and drink Ataya the whole day.
Dr. Jah also thanked Mr. Manneh and Mr. Keita for what they have been doing.
Mr. Manneh said the VC, Professor Kah, was not around at the moment and that was what explained his absence from the farm.
Dr. Jah was deputising for Professor Kah. He said "we are all families of the President, and it is good we heed his advice do something which we all know is good for us". He expressed his delight to be involved in this, and thanked the participants for answering to their call.
The youth and women of Faraba also said they were glad to contribute their own quota, and will always be ready to participate because the university is for the whole country. Whatever they get for their association will be used to help their own society. 
Read Other Articles In Article (Archive)