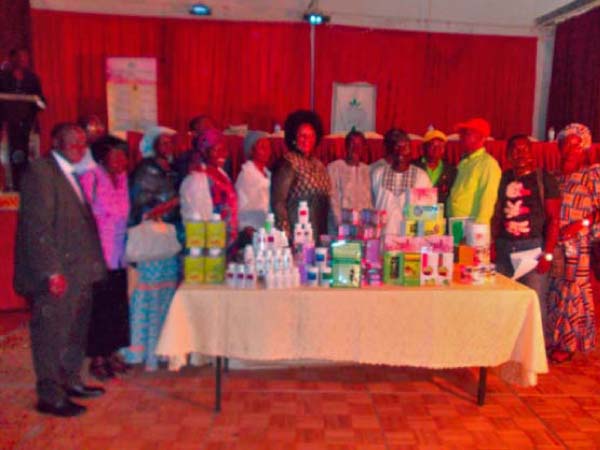 Green World has brought to the doorsteps of people in The Gambia the secret of how to live a healthy and wealthy lifestyle.
Through the use of Green World food supplements and herbal medication, good health and longevity of life is maintained, and availing oneself with the opportunity of Green World market of its products, getting wealthy is ensured, said the Green World family.
"At Green World International, we understand a secret that has remained a mystery as well as a concept: 'Longevity' is not a function of health services and physical fitness but rather a function of how well we prevent cellular malnutrition and cell death," said Dr Gibril Ahmed Jassy of Kombo Clinics in his keynote address at a one-day workshop on the importance of supplement, organised by Green World in collaboration with Kombo Clinics.
Speaking on Friday at the Paradise Suites Hotel in Kololi, on the theme: Secret to Healthy Living and Wealthy lifestyle, Dr Jassy said: "We know that the food and drinks we ingest daily coupled with environmental pollution contain toxins and inadequate enzymes and nutrients that contribute to the steady decline in life expectancy."
Chronic diseases like cancer, diabetes, liver problems, prostatic enlargement, kidney problem, cerebra vascular accident (stroke), and high blood pressure "are actually caused by nutrients deficiency", which can be solved by natural healers found in foods,  "instead of taking chemical drugs to cover up the symptoms",  the Kombo Clinics medical doctor explains.
"Nutritional status is the first step towards health. Longevity therefore is built upon healthy metabolism, supported by normal activity of cells, tissue and system of human body. Smooth circulation ensures healthy growth and development of the human body. This lays the foundation of Longevity."
Dr Jassy said this is why Green World food supplements, which "have no side effects", are being introduced in The Gambia. "These Green World food supplements prevent cellular malnutrition and cell death. Green World takes the best from nature to improve human health," he added.
Dr Jassy narrated his medical experience with Green World products, saying:  "I have been using these non-toxin food supplements since 2013 and found them extremely good. They work in a much more balanced way to help solve the real cause of disease instead of relieving the symptoms. We have to appreciate human body and approach it with wisdom.
"Traditional Chinese medicines have proven that herbal remedies are effective means of preventing disease and maintaining wellness because the body knows exactly how to use them to balance the positive and negative forces within the body."
Need for nutritional supplements
Nutritional supplements are needed today more than ever before, as the human health and environment is gravely threatened by a lot of artificial supplements and environmental pollution that continue to cause cellular malnutrition and cell death as well as soil depletion and air and water contamination.
"Soil depletion has reduced the nutrient content of our food supply," said Simon Peter, Green World Gambia representative.
He expatiated: "In most areas of the world, the land has been over-farmed and over-grazed. In most of the world, manures and other mineral-rich products are not put back enough on the land. This has depleted the soil quality."
Furthermore, Mr Peter said, everyone needs nutritional supplements because hybrid crops provide lower-nutrient food (which are used everywhere nowadays); modern fertilisers do not supply enough trace elements; modern use of chemical pesticides and herbicides all over the world make food somewhat toxic, and damage soil microorganisms, which also reduce crop nutrition.
"Stressful and hurried lifestyle impairs digestion and uses up more nutrients," the Green World Gambia rep said, whilst outlining a few of the reasons nutritional supplement is highly needed in this day and age.
The anti-ageing product, the breast-care tea, and the prostatic medication, coupled with the organic fertilizer of Green World are some of the products Dr Mrs Uzoukwu Ngozi Frances, Honorary Chairperson for Green World Global, recommended for both men and women.
Dr Ngozi, a guest of honour of Green World Gambia, said "three cars will be coming to The Gambia" for those people who have marketed well Green World products in the country.
She said that in Green World both health and wealth benefits can be attained by whoever uses and deals in its products.
Green World offers solution to many health problems with its natural food supplements and special computerised diagnostic body checkup with no side effect, for one's entire body system, to declare health status.
Whilst some underwent its special computerised diagnostic body chapter to flush out any toxins in their system, others received iconic certificates and awards for their performance in Green World over the years.
FBNBank's Buchi Umesi spoke on the secret of the ways and means of getting good health.
He said: "You can live healthy if you avail yourself with the ways and means of living healthy.
"You can live wealthy if you avail yourself with the opportunity of Green World market."
Read Other Articles In Article (Archive)