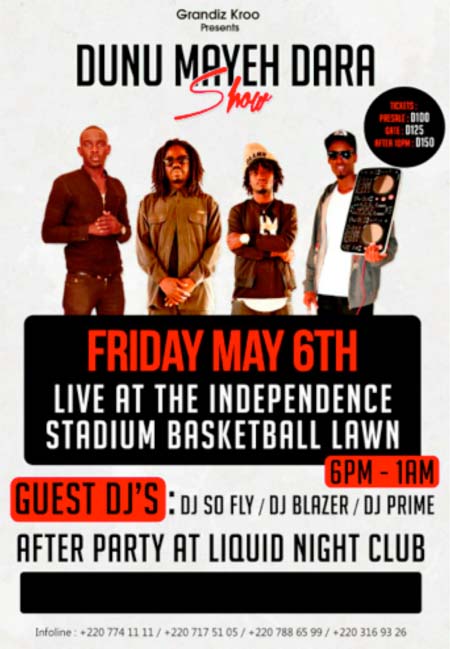 The Grandiz Kroo, a multicultural Hip Hop group formed in December 2005 in the 16th Street, Fajara, in The Gambia, has dropped a new single called 'Dunu mayeh Dara', which will be released next month.
The crew consists of rappers who grew up together, each with his own persona. They all met at the Senegalese School, except Lil' Yacs, who was a friend from the French school.
Their love for music has kept the group together for years. But the most important thing that kept the group together is the love they have for each other, and the fact that they have been friends for too long.
According to the group, they have been subsequently sidelined by many mainstream Gambian radio stations, by promoters, event agents, companies and even the local TV station (GRTS).
In spite of this, the group had not stopped to struggle alone, and has been gaining more recognition through the internet where the group focuses more to promote its products since they felt sidelined in their own bastion.
Grandiz Kroo first became known in their school (the Senegalese School) following the release of their first independent single, "Like They Told Us", produced by B Master, which immediately gave the group a sizable underground following.
The song was first performed at Alliance Franco-Gambien (French Cultural Center in The Gambia) during the Senegalese School's culture day (FOSCO). It received good reviews and was played fairly well on the radios.
Fans by large had waited to see the G. Crew step up the quantity of their releases. They soon released their second track entitled, "Gotta Go", which track talks about illegal immigration to Europe. This showed the maturity of the crew's mentality.
Still going strong, G. Crew released a collaborative record entitled "You Don't Know Us" which featured guest appearances from another school mate named Young Blood and Retsam's elder brother MAB "The last one", who was the most prominent and also produced the song. The success of the joint attracted Young Blood into the crew.
During the summer of 2006, G. Crew opened their own recording studio called Revenge Records, with Lawless as producer. That same period, they welcomed Raz C a former school mate who at that time transferred to SOS Herman Gmeiner Technical Senior Secondary School.
However, shortly after joining the crew; he left The Gambia to further his studies in the UK.
They stated that their expectations are obviously for the world to get to know their music, and feel the good vibes and good music that they are doing and represent Senegambia worldwide.
They added that Gambian music needs support, in particular, if there is a music industry to really work harder, because there is talent in The Gambia and all those artistes need to be managed and have their music very well promoted.
Read Other Articles In Article (Archive)