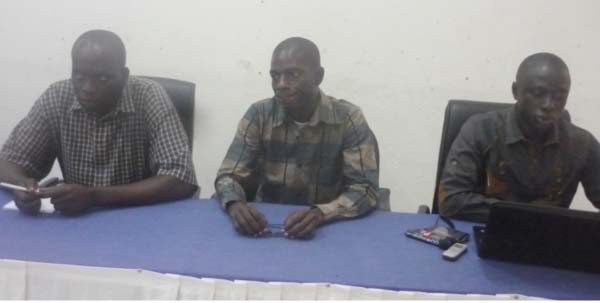 The Gambia Press Union (GPU) yesterday began a two-day seminar on freedom of expression for personnel from the armed and state security agencies.

The event is one of series of capacity building and advocacy programmes the GPU is embarking on in complementing efforts of government at creating an enabling environment for freedom of expression and media development in the country.
Speaking at the opening ceremony held at TANGO Conference Hall, Bai Emil Touray, president of the Gambia Press Union, said the seminar is part of several activities aimed at building the capacity of professionals with a view to enhancing their understanding of freedom of expression, which is a fundamental human right that is enshrined in the Gambian constitution.
Mr Touray stated that freedom of expression is everybody's business hence everybody's right to be entitled to it, adding that this includes freedom of the media and freedom of speech.
He said one way they could enlarge freedom of expression is not only to build the capacity of security agencies, members of the judiciary, national assembly members among others, but also to engage in exchanges aimed at widening understanding of issues aimed at achieving a society built on a foundation of human rights.
He said the gathering would provide opportunity to critically look at issues that impinge freedom of expression as well as look at some of the shortcomings of media actors with a view to paving the way for all to enhance day to day work.
The GPU president said the development of freedom of expression should be seen as a collective responsibility, as a vital press enhances socioeconomic growth as well as development and security.
He stated that security officers have a vital role to play in the enforcement of law and order and as such it is therefore profoundly important for them to understand freedom of expression, particularly freedom of the media.
"This will not only enhance our work as media actors but will also provide us with the opportunity to share information with media actors in a way that favours society," he said.
It will also enable media actors building contacts, to effectively and efficiently discharge their duties such as cross checking stories with security officers, he further said, adding that it can also reduce the misconception surrounding the media.
"This will also help build a very strong democracy for our country as the country belongs to all of us," he said, adding: "By coming together and collectively working together we can develop the country. This will go a long way in helping citizens to benefit from our collective engagement."
Ebrima Njie, representing the Ministry of Information, Communication and Infrastructure, said it is essential to refresh the knowledge of security officers on the importance of freedom of expression in nation building.
There cannot be development without freedom of expression and press freedom, Mr Njie said, adding that when there is no development it affects everybody regardless of one's occupation.
Freedom of expression is not only for journalists but for everybody, he added, saying security services are very cardinal in the development of every nation.
He thanked the GPU for their efforts in relentlessly building the capacities of various actors of national development.
He said freedom of expression however has a limit, adding: "We should always remember the security and safety of people we disseminate information to.
"As journalists we must think above politics: if you are a politician leave reporting and if you are a journalist leave politics," he cautioned, saying: "You cannot hide behind journalism and be supporting a particular political cause.
"We have a right to express ourselves but let us not do it in a way that will jeopardise the peace and stability of our country."
He urged the participants to share the knowledge gained from the workshop with others.
Sang Mendy, GPU project manager, in his remarks, said the workshop is geared towards advocating for freedom of expression and information.
The project targets a cross section of the Gambian population to discuss on the importance of freedom of expression and how it can enhance development.
"We are confident that we did not make any mistake in designing this project hence everyone requires a right to express him/herself openly without fear of being intimidated or victimized," he said.
Mr Mendy added: "The workshops also aim to create a mutual understanding and a platform for an on-going dialogue on principal matters when it comes to cases regarding press freedom matters."
He thanked the participants, their institutional heads, and the Inspector General of Police for their continued partnership with the GPU.
Read Other Articles In Article (Archive)