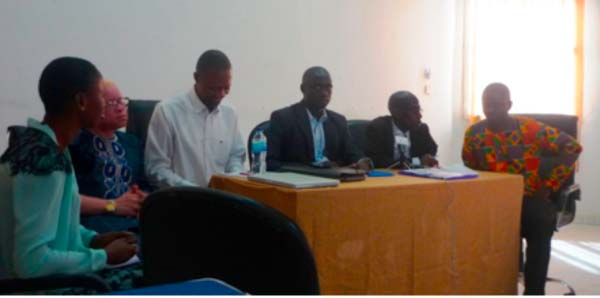 The Gambia Press Union (GPU) yesterday held a daylong national forum on freedom of expression as part of efforts to pave a way for the enactment of press friendly laws.

The forum at Tango hall was attended by representatives of state security services, government, media, civil society organisations and the business community.
On the theme 'The role of the media in enhancing democracy and development', the seminar was also aimed at building partnership with relevant institutions as well as recommending solutions to pertinent issues relating to freedom of expression.
It was part of a project called 'Building Capacity for Advocacy' being implemented by the GPU and the Gambia Media Support (GAMES).
Sang Mendy, GPU-GAMES project manager, said the national forum was the climax of the sensitisation seminars the GPU held for members of the armed and security forces, Ministry of Justice, and the National Assembly in 2016.
"To build on those seminars, the union thought it wise to bring together representatives from those three bodies, the media and civil society to discuss on press freedom issues with a view to explore strategies aimed at expunging the draconian laws from our statue books," he said.
Mr Mendy said repealing the anti-freedom of expression laws is not for the benefit of the media alone since everyone requires the right to express him/herself openly without fear of being intimidated or victimised".
"At least now, we are all openly expressing ourselves since the coming of the new government but those laws that were limiting us to be silent remain in our books," he said.
Saikou Jammeh, GPU secretary general, said everyone should contribute in creating an enabling environment for the media and freedom of expression in The Gambia.
However, he said, since the coming of the new government, there are assurances that there will be greater opportunities for media freedom and development.
Saul Njie, deputy permanent secretary, Ministry of Information and Communication and Infrastructure, said freedom of expression should have a limit.
"The media is a very important tool but journalists should be responsible in their reporting as every right goes with a responsibility," he said.
Read Other Articles In Article (Archive)