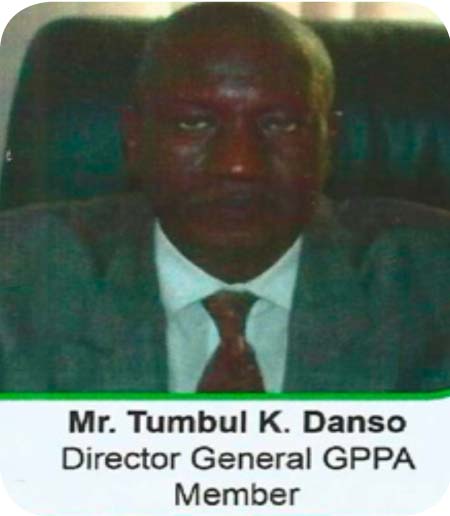 Tumbul K. Danso, Director General of the Gambia Public Procurement Authority (GPPA), has said the institution's activities are based on its mandate.
Danso was speaking on Monday at the National Assembly while presenting the authority's activity report and financial statement 2013 before the Public Accounts Committee and Public Enterprises Committee, PAC/PEC, of the National Assembly.
DG Danso told the Assembly members that in fulfilling the foregoing requirements, the GPPA developed an implementation strategy.
A measurement tool with an attendant scale was designed with a view to appraising performance of respective procuring organizations, as well as the system-wide performance of the new dispensation.
The GPPA strategy reflects its poise to intensify its monitoring mandate, albeit severe constraints to effectively self-regulate in its goal and pursuit to achieve its cardinal objective of ensuring that all procuring organizations are frequently monitored for compliance, he said.
"Constraints experienced by the authority and further reinforced by the proliferation of procuring organizations on one hand and, on the other, the authority's inability to professionally train a good number of its technical staff on procurement to meet the growing demand poised by such proliferation," said Mr Danso.
"It was the view of the GPPA that unless such a discrepancy is addressed, monitoring of all procuring organizations currently established would be difficult, if not impossible, and the modernization, as well as improvement of our procurement system, to international best practices would be a challenging task.
"This requires that The GPPA be resourced enough to enable it to recruit and train its technical staff to effectively monitor about 180 procuring organizations."
The GPPA director-general added that given the foregoing constraints, management devised a review strategy by randomly selecting those that appear before the PAC / PEC, including the local government authorities and some of the ministries for frequent monitoring by way of compliance reviews.
Over the years, he continued, there were increases in the number of procuring organizations in the country.
This could be attributed to the establishment of new agencies by the government, coming-up of projects within larger government organizations, as well as inclusion of thirty-five senior secondary schools that are subvented by the government.
However, he went on, there has been some progress made by the aforementioned procuring organizations to adhere to the dictates of the Act and its attendant regulations.
Read Other Articles In Article (Archive)