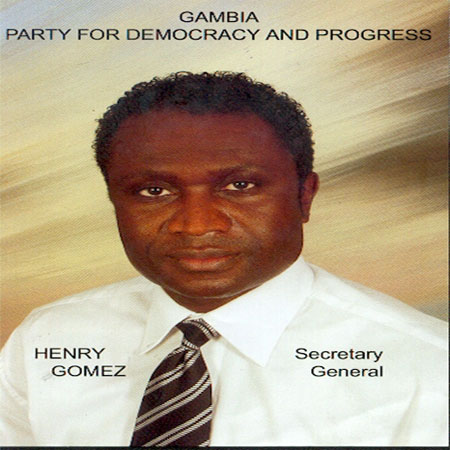 Mr Henry Gomez, leader of the opposition Gambia People's Democratic Party (GPDP), has felicitated President Yahya Jammeh on his marriage of a second wife, describing it as "something good for The Gambia".
Gomez, who was speaking in an interview with The Point yesterday, expressed gratitude on his behalf, his family and his party to President Jammeh and Lady Alima Yahya Jammeh for their new family.
"From my own side, family and party, I am wishing President Jammeh and Lady Alima Yahya Jammeh good luck for the new family. I also would like to wish them a very happy marriage with God's blessing," Gomez said.
The GPDP leader however renewed his call for Gambians to change all negative attitudes and work towards the development of the country, noting that nobody would come from outside to do that for Gambians.
"We have to be focused; we should also have national pride and work towards the development of this country. We as Gambians should be proud of ourselves and work hand in hand for the betterment of our motherland," he stated.
According to Gomez, it is only by coming together and working towards developing the country that Gambians can put an end to the "serious hikes" in the prices of basic commodities. "Yes, government has a responsibility but they cannot do it alone," he said. "We have to, as Gambians irrespective of our political differences, work for the betterment of our country. This can only be realised when we change our attitudes and work holistically."
For the GPDP leader, patriotism does not only mean talking but also doing things for all to see. "It is not by talking that you are patriotic. We have to work collectively and day in day out for development. With this, we can show to everyone that we are patriotic," he added. 
Read Other Articles In Article (Archive)