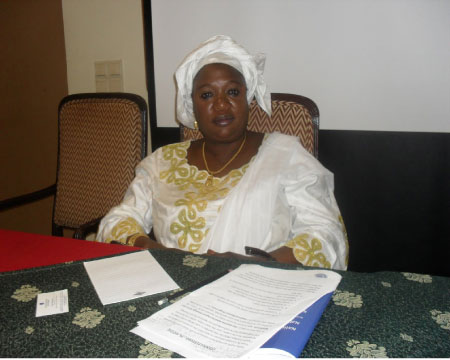 A comprehensive study document which seeks an investment appraisal for Coastal Shipping was presented for validation on 27 August at the Paradise Suites Hotel in Kololi.
Speaking at the ceremony, Bai Ibrahim Jobe, coordinator for Enhanced Integrated Framework (EIF) project, said the aim of validating the study document is to develop an appropriate commercially viable business model to make optimal use of the coastal waters and providing sea transportation services in the sub-region.
He said: "Increased road congestion; multiple check points creating delays and imposing additional costs of goods and to some extent services; recognition of the extraordinary road construction and maintenance expenses; and technological advances of containerization and cargo handling have led many to view coastal shipping an attractive complement to road."
According to him, the critical success factor for having coastal shipping is that it facilitates cargo movement as an inexpensive, faultless component of an integrated intermodal transportation system and taking advantage of the efficiency of port to further strengthen competitiveness as transit hub to the sub-region.
For her part, Naffie Barry, permanent secretary, Ministry of Trade, Regional Integration and Employment, stated that in a bid to remain competitive with countries in the sub-region, the Diagnostic Trade Integration Study (DTIS) has considered the port of Banjul as the focal point for transportation system and that it should not only depend on its own efficiency but also offer transport system services which is linked to hinterland and beyond.
She said: "The DTIS recognized that coastal shipping is almost non-existent now in The Gambia, hence intervention to support this study which seeks to explore with partners the possibility of starting a service linking Banjul to neighboring harbors in Conakry, Bissau Praia, etc."
She said that such a service would deal with general cargo, most of it originating from containerized imports which would be unstuffed in the bonded port area or in Banjul unbounded warehouses.
Kalipha Bah, director of Banjul Shipping Yard, revealed that the development of coastal shipping would therefore represent an important alternative to road and rail transport for the ECOWAS sub-region with a population of more than 250 million and an annual trade valued at more than 500 billion dollars according to World Bank statistics.
"Given the poor state of the road infrastructure networks that link sub-regional countries coupled with numerous security and municipal checkpoints, the lack of adequate haulage companies to provide road worthy vehicles according to Interstate Road Transit requirements and reluctance in the full implementation of the ECOWAS protocols on the free movement of goods and services, coastal shipping therefore becomes the ultimate option to cross border road transportation," he said.
Notwithstanding, its comparative advantage in terms of cheaper freight cost per ton-mile, coastal shipping also poses challenges for effective competitiveness which include ship charges in ports, shore handling charges at warehouses and loading/discharging ports, storage charges and so on; which increased operational costs of shipping in the sub-region.
Read Other Articles In Article (Archive)