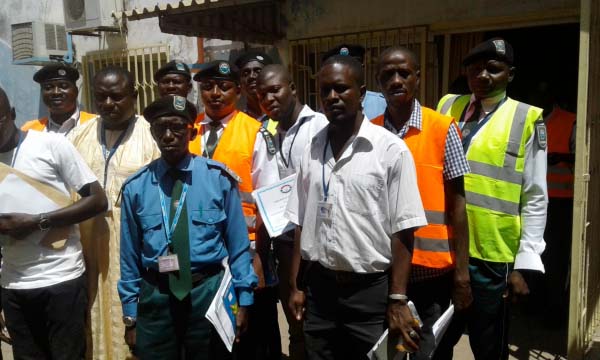 Issued Tuesday 22 Mach 2016
The Gambia Ports Authority (GPA), in collaboration with the office of the PFSO, on Friday concluded a five-day in-house training of security personnel on maritime safety at the GPA headquarters in Banjul.
Speaking on the occasion, Mam Pateh Dampha of PFSO said after having undergone the training, the participants are now more knowledgeable to carry out their duties as required of them without fail or excuse.
He said now that the security personnel have received the required training and support to be able to carry out their duties "perfectly", the management of GPA and PFSO will not compromise with any officer found wanting.
"If we compromise with you [security officers] that mean we are also compromising with the security of the port," he said.
Officer Commanding (OC) Sainey Jawara commended the GPA and PFSO for conducting "this wonderful training", saying such training has never happen at the GPA during his 20 years of work.
OC Jawara old the participants: "Not only have you come here to eat food but to implement what you have learned from the wonderful training.
"As security officers, you should always know that you have the greatest responsibilities in this country, we looking up to you and I strongly believe you will not let us down."
Harbour Master Captain Kulay Manneh of GPA also hailed the organisers of the training while adding that Banjul port is among the very good ports in the world.
He expressed optimism that the knowledge and skills gained by the security personnel during the training will go a long way in enhancing their work of monitoring people and properties.
The deputy managing director of GPA, Ousman Jorbateh, said the GPA's human resource is its most valuable asset.
He told the beneficiary security personnel: "Business goes where there is confidence meaning where the security is high.Therefore, I want you to value this training and go out there to apply the knowledge gained."
GPA Managing Director Lamin L. Sanyang said it is expected that the training participants will apply the knowledge acquired.
"If you do that, it should be safe to allow international businesses to invest here in The Gambia because of the security of the port," he said, adding that it is the right and responsibility of the security to know who is accessing the port and why it is been access.
"We are an international port and you are guiding millions; you should not compromise with it because we are the gateway to The Gambia.We should not compromise the security and the integrity of this Port," MD Sanyang added.
Read Other Articles In Article (Archive)