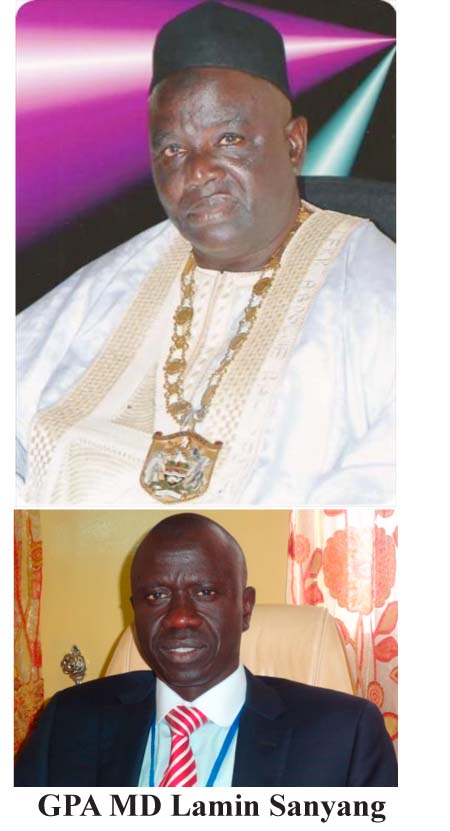 The management of the Gambia Ports Authority (GPA) yesterday presented a cheque for one hundred thousand dalasis to the Banjul City Council through the Lord Mayor Abdoulie Bah, towards celebration of the Banjul Bicentenary.
The presentation ceremony, held at the office of the BCC Mayor, was part of GPA's contribution towards the capital city's event.
Speaking to this reporter shortly after the presentation, the Lord Mayor of Banjul, Abdoulie Bah, thanked the Almighty Allah for giving them the strength and ability to ensure they organise the event.
He said institutions and associations have been contributing their quota towards the commemoration of the Banjul Bicentenary.
According to him, the donation was part of GPA's contribution towards the forthcoming event of the Banjul Bicentenary.
He described the move as a good gesture because the port is in Banjul, and the celebration is going to be not only in Banjul but the entire nation.
This is the first celebration, he said, because the one planned in 1916 was supposed to take off as planned, but because of the First World War people did not have time to celebrate it.
He said that in 2016, they shared the opportunity and capitalised on it with the approval of the President to celebrate this great occasion.
"We have nothing to say, but to thank the contributors towards the success of this forthcoming anniversary of Banjul Bicentenary."
He also revealed that the Gambia Cricket Association came up with a package of D5,000 as part of their contribution towards the celebration of the Bicentenary.
Mayor Bah urged other organisations to emulate these institutions and associations to make the event a success.
He added that there was another association called 'Jamborai' that gave D1,000 towards the event, adding that there are others who  donated but they don't want their names to be announced, such as a young man from the diaspora who gave D14,000.
According to Mayor Bah, one Gambian businessman who does not want his name not to be mentioned, pledged a cheque for D50,000.
He called on Gambians and non-Gambians to contribute their quota towards the anniversary, as the event is not only for Banjul City Council but for the whole country.
He said the celebration will be held in different zones starting on 23rd April, which will be the official opening, and other activities will be announced.
He said they plan to extend the occasion over three months, because of the wide range of activities involved.
He also stated that BCC would ensure everything about the celebrations go successfully, although the event is handled by their main organising committee which plans the cultural, educational, sports and others activities. 
Read Other Articles In Article (Archive)