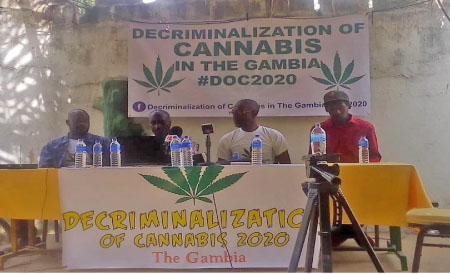 (Friday 14th February 2020 Issue)
Jarga K. Gigo, president of the newly established, Decriminalisation Of Cannabis in Gambia 2020 (DOC), has called on The Gambia government to decriminalise marijuana, saying marijuana heals more than any other medicine which makes it a natural and beneficial product for mankind.

"We believed that marijuana heals more than any other medicine. Marijuana is a blessed product for mankind and therefore should be decriminalised," he said, adding that; "marijuana could bring billions to the country if it's legalised."
The hem seeds, he said could be very useful in preventing so many diseases.
Gigo called on the drug law enforcement agency to join the fight and refuse all arrests relating to marijuana. 'Marijuana is not a toxicant as it is misunderstood by many,' he added.
Tijan Sillah said, legalisation would create ladder employment for youths in The Gambia, adding that it would boost the health, economy and agricultural sector of the country.
"Cannabis can be used to make oil and other valuable materials which would be very useful for Gambia,' Sillah said.
Pa Modou Mbowe, the spokesperson of the organisation, described marijuana as the economic game changer, while urging all users of cannabis to be self regulated and avoid smoking in public.
Read Other Articles In Article (Archive)