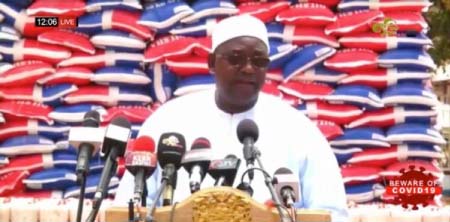 President Adama Barrow has said in his fourth covid-19 address to the nation that his government will provide 2000 tons of fertilizer to support farmers in the upcoming rainy season and to further strengthen the drive for food security.

The Gambian leader was speaking on Sunday during his government's launching of the covid-19 food bank for the 80% needy Gambians in a programme held at McCarthy Square, Banjul. He also assured of his government's support to citizens during the pandemic.
"In a global pandemic such as what is currently going on, every country must look inward to protect and provide for its people," while urging all able-bodies persons, particularly "the youth to redirect their energies into agriculture: be it to cultivate our staple foods or horticulture production. Together, let us make agribusiness a reality," he said.
He further stated that aside from the immediate covid-19 emergency programme, his government continues to pursue its development agenda, noting that in line with the pledges made during the nationwide tour last year, 33 ambulances have been procured. He added that the move was timely as the vehicles will support the health facilities across the nation, especially if the covid-19 cases escalate in the country.
"In partnership with the security agents, health response teams and communities along our borders have stepped up surveillance at both official and unofficial entry points, and along the coastal areas. This partnership has resulted to apprehension of some people who sneaked into the country."
President Barrow added that his government recognises the urgency to address the impact of the covid-19 pandemic, but said they are mindful of the need for professional responses to both the growing health and economic crisis arising from it.
"Thus, in full gear is the continuing and relentless effort to guide the management, containment and prevention of the spread of the virus. Noteworthy among the measures in progress are the upgrading of our health care services, provision of social support, security reinforcement and abiding by the rule of law."
He revealed that advocacy through social mobilisation and the media to raise consciousness amongst the population continues to take center stage in their strategic responses, adding that importantly is the objective of mitigating the negative impact of the pandemic on the people.
Read Other Articles In Article (Archive)