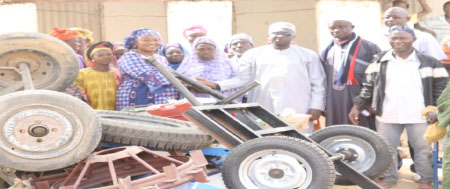 The governor of Central River Region CRR has made it clear to the people of the area that the recent farm implements donated by the presidency are not for sale neither do they belong to any political party.

Abba Sanyang made this warning during a recent handing over of farm implements donated by President Barrow to farmers in CRR south.
The implements, which were presented by minister of Agriculture- Amie Fabureh, came following a request by farmers in the area during President Barrow's last Meet with the People's Tour.
At the handing over ceremony, Governor Sanyang indicated that following the request of farmers in CRR, President Barrow in close consultation with the Ministry of Agriculture and development partners responded positively to the needs of the farmers.
Sanyang warned beneficiary communities not to sell the farm implements, noting that the implements are to boost rice production in the area, thereby easing daily drudgery by local farmers.
To that end, he urged beneficiary communities to utilize the tools for their intended purpose.
He also expressed his office's resolve to collaborate with the Technical Advisory committee (TAC) and the regional agriculture directorate in monitoring the use and upkeep of the farm implements.
He equally used the opportunity to call on people in the area to put aside their political differences and work towards the development of the country.
CRR governor, also urged the beneficiary communities to open a bank account for the sustainability of the implements.
"Open a bank account for these farm implements in case of any maintenance and other operational and fuel costs."
He thanked President Barrow for providing what he called "timely and worthy labour saving devices".
"We therefore cherish this farm implements and I want to assure you that the items will be put into good use".
He also called on the people in the area to instill team work in their doings and cooperate with a common vision of increasing productivity in the area.
"The Gambia is endowed with abundant natural resources and we have to ensure that we utilize it through mechanization."
Read Other Articles In Article (Archive)