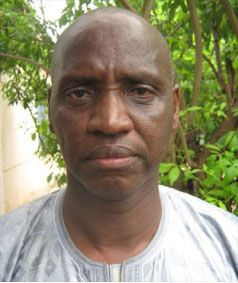 The governor of the Central River Region (CRR), Ganyi Touray, has humbly registered big thanks for the resounding success of the 2012 National Youth Conference and Festival (NaYCONF).
Below is the full speech delivered on Wednesday by Governor Ganyi at the closing ceremony of the Bansang-hosted event:
"I want to first and foremost thank the almighty Allah for guiding us safely through a memorable week of dialoguing, sporting activities, fanfare etc. I am gladly trumpeting today.
This would not have been registered without the ever intervention of the star of the nation, the hope of the youth, the saviour of the women and the future of the generations yet unborn."
I, therefore, implore on all of you who gathered here today to sincerely join me in thanking H.E.  Sheikh Professor Doctor Alhagie Yahya A.J.J. Jammeh, for his donation of foodstuff, meat, etc.
In the same vein, I want to thank NAWEC for their wonderful contribution in the realisation of NaYCONF 2012. They did not only help in lighting up of the village, but they stationed staff all throughout the week.
Also on this juncture thanks go to all organisations who in their bid to exercise their corporate social responsibilities, joined hands in the staging of this remarkable event.
The local communities that flanked their venue for their unflinching participation, from the period of the building-up to the event to its successful unfolding.
I will register heartfelt thanks to the people of Bantanto in supplying water to the delegates.
In recognition the effort of the Bansang Fire Station for also providing the venue with water. For the people of Bansang I say thanks for your generosity.
Thanks to Janjanbureh prison for the constant provision of firewood to the programme all through the event.
I want to seize this opportunity to thank all the regions that converged here for this memorable event.
I would thank the security personnel and all other people who participated in the success of this wonderful occasion.
The curtains of NaYCONF 2012 are being brought down; I urge all those who represented their respective regions to not only reflect on the positives of the event.
There are those who provided entertainment during, hence every youth is associated with entertainment and fanfare.  The ambience was never relenting as mentioned by all and sundry.
I will congratulate the winners of all sporting disciplines staged here. Philosophically, I believe everyone is a winner here.
The spirit of discipline was high and no or very few quarrels or hitches were reported during the event.
Before I wrap up my speech on this historic event, I would like to apologise on behalf of the whole CRR to any person or region who faced any form of difficulty during the programme.
It's obvious that not everything went perfect.
Against this backdrop, I humbly apologise for any shortcoming during this period of one week gathering.
I thank all the regions, guests, journalists, security personnel and wish them a safe journey back home and hope NaYCONF 2012 will be for a long time remembered for its magical success."
Read Other Articles In Article (Archive)