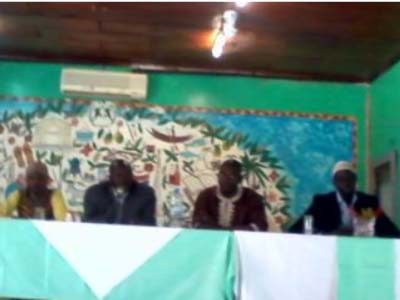 The Gold Award organizing committee on Thursday briefed journalists on the upcoming Gold Award to be held at the PIA Hall in Bakau.
The award, to be held on 1 February 2014 at the 22nd July Square, is targeting 175 young people across the country.
Speaking at the briefing, Fabakary Kalleh, chairperson of the committee, said 175 young Gambians have in the past two years undergone training for the award programme.
He said to be given the Gold award trainees have to do certain things under what is called the five mandatory sessions, which makes it possible for each member of the award programme to be given a passbook from the day of their registration.
Mr Kalleh added that whatever activity they have done in each of the sessions is recorded in the passbook and when the awarding is about to happen participants are called to bring their passbook and a special team would look at the passbook to select the most competent and worthy ones to be given the award.
The awards are bronze, silver and gold, he said, adding that whilst awards were being given at the national level, the PIA has reorganized it that the awards in the bronze section of the programme are now issued at the school level where participants do their services.
Successful students are always promoted to the 2nd level, which is the silver award, whose awarding ceremony is organized at the regional level.
The gold is the highest level, which takes place at the national level. This is presided over by the President of the Republic of The Gambia, he said.
The award programme has been in the country as far back as in the 1970s, Kalleh recalls, saying it used to be under the Ministry of Education, Youth, Sports and Culture before it was made to stand alone.
He said 175 young people have qualified to be awarded this time round and the PIA would therefore want to honour their services and celebrate them in grand fashion and "not just call them and give them their award and they go home".
For his part, Almameh Kinteh of the National Training Authority (NTA) said they are the supervisors of the activities that are carried out in the PIA.
At the same time they are trying to ensure essential skills are given to the Gambian youth, which is why they were established in the country, he added.
They are fully behind the PIA and will support them in any of the endeavours because they want to embark on skills development, Mr Kinteh affirmed.
He also said the programme has received serious attention and boost because of the interest the President has in the training scheme, as well as some organisations in the country, which has helped greatly to mitigate the challenges the PIA, NTA and other stakeholders have been facing in maintaining the programme.
He commended Skye Bank, SSHFC, GPA, Takaful, Gamcel and other institutions for their support.
Read Other Articles In Article (Archive)