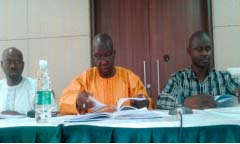 The Gambia National Petroleum Corporation (GNPC) Tuesday presented their annual activity report and audited financial statement before the joint session of the Public Accounts and Public Enterprises committees (PAC/PEC) of the National Assembly for scrutiny.
Presenting the report before deputies, Momodou O.S. Badjie, Managing Director of GNPC, said that in 2014, GNPC registered a profit before taxation of D169 million, showing a 53 per cent increase compared to the profit of D110 million in 2013.
He said this was mainly due to the importation of fuel in the period.
He added that in 2008, GNPC graduated some staff from the four-year petroleum elite programme held in Taiwan, and "some of these staff are now managing their downstream activities and others are pursuing or have got their master's degree in various fields of the upstream activities".
According to Badjie, with the expansion of the national network of service stations, GNPC "creates job opportunities" for the local communities by employing those within that community, and also "improves the facilities and conditions" around the premises of the service stations.
"We are now importing our own products AGO and PMS and also HFO for NAWEC after the government liberalised the importation sometime in 2014," Mr Badjie said.
Since the liberalisation of the importation, GNPC had made a significant impact in the oil and gas industry in terms of the sale of high quality petroleum products, and increasing its market share despite the competition, he said.
"The business being capital intensive, sometimes we have difficulties in paying our loans or getting the foreign currency to pay our facility with ITFC," he said.
"The other constraint is the price structure, which is based on the GNPC product cost, which is for the higher quality of 10-50ppm and the other importers are bringing 5000ppm."
He added: "We are all selling at the same price; product cost is based on the quality and the higher the quality the higher the cost and lower the quality the lower the price, vice versa.
"We are unable to compete with the other importers when it comes to tender, because they are in a position to give huge discounts that we cannot afford to give. They are also making more profit because they are importing at a lower cost and selling at a higher cost."
Mr Badjie said the difference between what they bought the product for and what they sell it "goes to them the importers, giving them more profits".
GNPC is expected to report back to the National Assembly on Monday for the consideration of their annual activity report and audited financial statement.
Read Other Articles In Article (Archive)