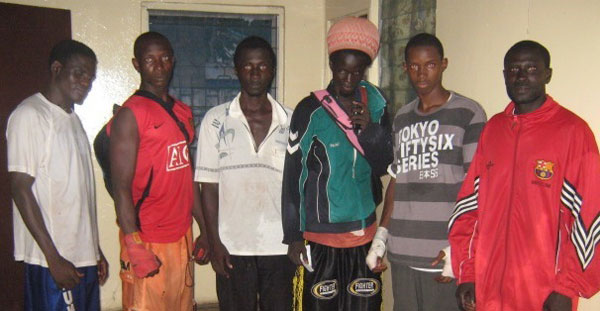 A group of young Gambian boxers from the Independence Stadium Boxing Club, who are set to raise the level of Gambian boxing to higher heights, have called on Sang Correa, the former President of the Boxing Association to lay off his criticisms on the Interim Committee of GABA.
This is in connection with the recent arrest of Gambian boxers by Spanish authorities in Spain on their way to an international competition in Italy. Former President Sang Correa, who was expelled from Gambian boxing, is alleged to have masterminded the Spain arrest.
The group comprising Ensa Jammeh, Ellarion Sanyang, Nfansu Badjie, Alieu Badou Sanneh, Pape Gibi Jallow and Arona Jagne, are said to be a part of the most experienced boxers in the country.
Ensa Jammeh and Alieu Badou Sanneh, who spoke on behalf of the group, told Pointsport that all the criticisms leveled against the Gambia Amateur Boxing Association (GABA) by Sang are "false and baseless".
"Sang Correa should lay off his criticisms. We have been with him during his seven years in office and have seen how he was operating. In seven years, we had a single coaching course and hosted the Zone II boxing competition in 2007."
"In short, apart form his role as the President of the association, he's also Secretary and Treasurer, which is why he was able to fill in non-boxers in any international boxing championship as part of The Gambia's boxing delegation," they stated.
They also pointed out that, "after hard work and training during his leadership, we only sit down and hear that a delegation of Gambian boxers have left the country, while those doing the work are not selected".
The young and experienced boxers are also of the view that, though their former President is away in Milan, they have very solid evidence that he is still engaged in the affairs of Gambian boxing and has his aiders down in the country.
The Interim Committee of the Boxing Association, headed by Tamsir Sarr, according to the young boxers, is doing a good job. As they put it, within a short period of time they have succeeded in staging boxing trials and gala.
"Our President is always helpful and even helps finance these programmes as when he took over the committee, there was no money in our account".
The determined boxers, who are poised to represent The Gambia at a higher level, outlined that the country is faced with the lack of a standard boxing ring.
"Following our Milan saga, other boxers have stopped coming for training due to recent reports by Sang. We want Sang to leave us alone, as we want to work for the development of boxing with the current executive as we are so far happy with their work. We are calling on our colleagues to ignore those reports and come back to work in the interest of Gambian boxing," the group stated.
The need to participate in international competition was strongly echoed by the group, as they believe it would help give them more prospects in their career.
"Our major problem is not taking part in international competitions like Zone II and other competitions in Africa, which can help us book a place at competitions like Common Wealth  and Olympics," they concluded.
Read Other Articles In Article (Archive)