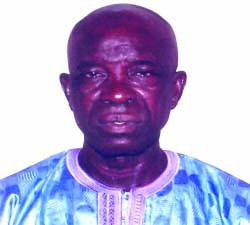 Alhagie Momodou Dibba, president of the Gambia National Olympic Committee (GNOC), has said the Gambian Olympic and Paralympics athletes will shine in the London 2012 Olympic and Paralympics Games.
Mr Dibba, who was speaking at the weekend at the farewell reception for Gambian Olympic and Paralympics athletes hosted by the British High Commission, stated: "There is no doubt that our Olympic and Paralympics athletes will capture the imagination of the world; they will show their talents, skills and above all they will unite communities."
He added: "We are very proud of them. We have one of our best athletes here, Suwaibou Sanneh, who made his qualification when he participated in the Deggu games.
"I am also very much pleased that we have our Paralympics athletes taking part in the games. This is very important for all of them and that there is no doubt that the games in London will be a showcase that will gear up all the athletes as all the best athletes will assemble in the United Kingdom."
He also used the opportunity to thank the Ministry of Youths and Sports, the National Sports Council and all the bodies involved in sports supporting the Gambian athletes and by also going to the games.
"There is no doubt that with our athletes we are going to join the rest of the world," he said, adding that all of them will be out there to celebrate as well as ensure the London Olympic Games is a success.
He also thanked the British High Commission and its staff for facilitating all the visa arrangements and also supported the GNOC.
"We thank you for coming to this reception to wish us well. Hopefully they will come back home with gold," the GNOC president pointed out.
Dodou 'Capi' Joof, president of the Gambia Athletics Association (GAA), said he was happy because "we are taking athletes that are really dedicated and hard working" to the London Olympic Games, adding that he has no doubt that they will do well for the country.
The level of preparedness of Suwaibou Sanneh and Saruba Colley is very good because they just returned from the African championship, he noted, saying that Suwaibou Sanneh is now ranked 4th in Africa while Saruba Colley is ranked 7th.
"The target of our athletes will be to reach the semifinals," Capi Joof said, while urging the public to support the athletes because "they are dedicated and will not disappoint the nation".
Read Other Articles In Article (Archive)