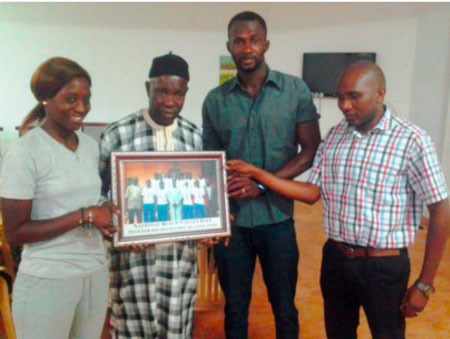 The Gambia Men and Women beach volleyball teams on Wednesday paid a courtesy call on the President of Gambia National Olympic Committee at the Olympics House in Bakau.
The Gambian beach volleyball teams recently returned from Abuja and Tunisia where they participated in the Confederation of African Volleyball Continental Cup finals for the Olympic qualifiers.
The women beach volleyball team was in Abuja for the finals where they finished 8th thus ranked 8th in the continent.
The men were also in Tunisia for the same competition but failed to qualify for the Rio Games; however they too were ranked 8th in Africa.
Speaking at the meeting the Acting President of Gambia Volleyball Federation, Bai Dodou Jallow, returns gratitude to the Gambia National Olympic Committee for the support given to the GVBF during the period of the qualifiers.
The Gambia has participated in 5 international beach volleyball events in 13 months and had registered success at all the events, notably winning gold and silver twice along the way.
The Gambia also took part in the 11th All Africa Games in Congo in 2015 and there too The Gambia's performance was productive, Jallow stated.
"We are thankful to the GNOC, under the leadership of Momodou Dibba, as the committee greatly supported us in all the events we participated and I am urging them to continue spreading their wings to other sports," he said.
The Technical Director of Gambia Volleyball Federation, Pa Dodou Sarr, thanked the technical department of the federation for the assistance they gave to the teams.
"I am so proud to associate myself with these young and enthusiastic volleyball coaches and most importantly I am indebted to the players for their discipline and commitment," Sarr stated.
The GNOC president Momodou Dibba reaffirmed his commitment and assured the volleyball federation of his ceaseless support.
"I think you people did tremendously well; being ranked 8th in Africa is a great achievement," Dibba commended.
The GNOC boss urged the GVBF to continue their good track records, as he promised to support the National Beach Volleyball Championship later this year.
The event wrapped up with a presentation of a picture of the beach volleyball team to the GNOC boss.
Read Other Articles In Article (Archive)