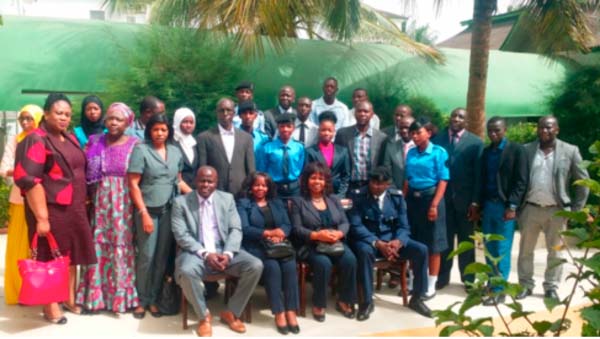 The Industrial Property office of the Ministry of Justice in collaboration with World Intellectual Project Organization (WIPO) and African Regional Intellectual Project Organization (ARIPO) has organized a seminar on Patent Cooperation Treaty.

The two-day seminar was organised to widen people's understanding on the PCT system, especially the electronic PCT system which was conducted online
Speaking at the opening ceremony, Mrs Nyallang Pii, senior Program officer at PCT International Cooperation Division, said through its technical assistance programme, WIPO seeks to make intellectual property relevant and beneficial to all its member states.
In cooperation with member states, she assured that they would continue to analyze and reflect on how to adopt the IP system to ensure that it works for the common good.
She hoped the seminar would focus on how individuals and institutions in developing countries could best utilise the international patent system in general and the patent cooperation treaty in particular.
Also speaking at the seminar, the Solicitor General and Legal Secretary, Chernor Marenah, announced that the Ministry of Justice attached great importance to the advancement and development of intellectual property in The Gambia.
"The PCT system provides immense opportunities for the young and imaginative innovators to freely access worldwide data bases containing millions of patent information," he said.
Mr Marenah pointed out that the PCT system is also a premier system for filing patents worldwide so as to facilitate the filing, searching, examination and publication of patent application for everyone around the world.
He added that the patent system is also meant to promote innovation and the major fundamental problem of the IP system in Africa is the generation of IP rights
Momodou E. Bah, representing the Inspector General of Police, said section 43 of the Intellectual Property Act that deals with impeachment.
"As police officers it is our duty to preserve that law to protect the lives and works of citizens as well as all other individuals living in the country; it is a duty to detect and apprehend offenders," he revealed.
He urged all officers in the country to work in consultation with the Ministry of Justice to enforce relevant laws so as to enforce all laws and regulations as well as the protocols and conventions signed by The Gambia as far as the international intellectual law is concerned.
Read Other Articles In Article (Archive)