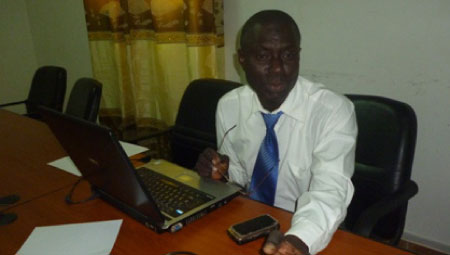 The nine-man delegation of the OlympicAfrica Central Committee ended their tour to the provinces where they visited the GNOC's Olympicafrica Relay projects in Bulock, Kaur and Farafenni.
The delegation, headed by Momodou Demba, development officer at the GNOC, on 21 March 2012 led the team to the countryside from Kaur, Farafenni and ended at Bulock on Sunday 24 March 2012.
During the meeting at Kaur, Modou Demba said their visit was to familiarize themselves with the situation at the community level about the Olympicafrica structures.
"Since then we did not put any management committee we can hand over to, who will be looking at the affairs of the structure including some key people around the area," Mr Demba said.
According to him, since the structures were built no management committee had been established. "Now we want to revive all as they are ready to develop sports," he noted.
In conclusion, he pointed out that the committees selected will be responsible for the stadium and all activities are going to be run or organised at the venues they should be contacted.
The following people who should constitute the Kaur committee are: three from the sports committee, one from the area council, one from the youth council, one VDC member, two female representatives, and three village representatives. 
"When you do your selections then we will come back again to inaugurate the committee and start work. But to remind you, the new committee should give a new name to the stadium, which will be in the books," he said.
In his speech, the director of Olympicafrica Centre in Serrekunda East, Alfusainey Jarju, said the meeting was very important because the centres bring a lot of development within the community, especially in sport to the communities if they are well organised and can handle the facility with great care.
He continued: "We are putting all the Olympicafrica centres created by the GNOC into the network so that they can also benefit as other Olympicafrica centres in Africa.
"The other purpose of setting up these Olympic centres is to prevent the children from idling in the streets, and to engage them in sport so they can benefit themselves tomorrow," Mr Jarju said. 
The other speakers included the Alkalo of Kaur and the chairman of Kuntaur Area Council.
Read Other Articles In Article (Archive)