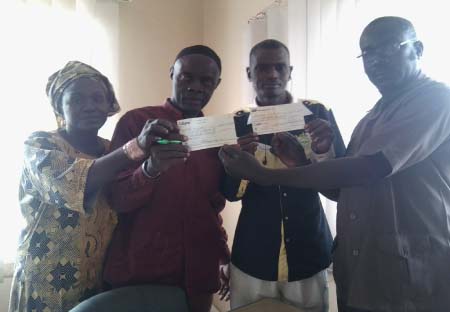 Four winners of The Gambia National Lottery's (GNL) Jackpot at the weekend received substantial cash prizes from the overnight changer of life.
They included Wally MM Faal and Bubacarr A.F. Sanyang, who both received a total of D37,940 while Amadou Sowe and Lamin Njie, each of whom has won the jackpot twice, went home with a total payment of D75,880.00.
Speaking shortly before the presentation ceremony, held at the GNL's main headquarters in Kanifing, Ms Mbasin Touray, Marketing Manager of the GNL, underscored the important role GNL is playing in the country.
According to her, over 500 young Gambians are working for the company.  "The Gambia National Lottery is here to create job opportunities for Gambians and we are also participating in reducing poverty in the country," she said.
She urged the customers to continue playing the jackpot for their own good while also calling on non-customers to also consider joining GNL family and play the jackpot "for the betterment of themselves and their families".
She said the primary objective of the GNL is to make every Gambians be self-employed, adding that at GNL's actions and deeds are transparent thus they will continue with that transparency mechanism in place to make their customers believe in them about whatever they are doing.
Speaking on behalf of the beneficiaries, Wally MM Faal from London Corner thanked GNL for improving the life of the Gambians and non-Gambians alike, especially the less privileged people.
He told the GNL officials that the money given to him will be properly utilised.
"The first plan which came to my mind when I was told that I have won the Jackpot was to refurbish my compound, which was destroyed by disaster some months ago, Faal disclosed, saying: "On behalf of my colleagues I say big thanks to the management of the Gambia National Lottery for moving our life from one step to another."
Read Other Articles In Article (Archive)