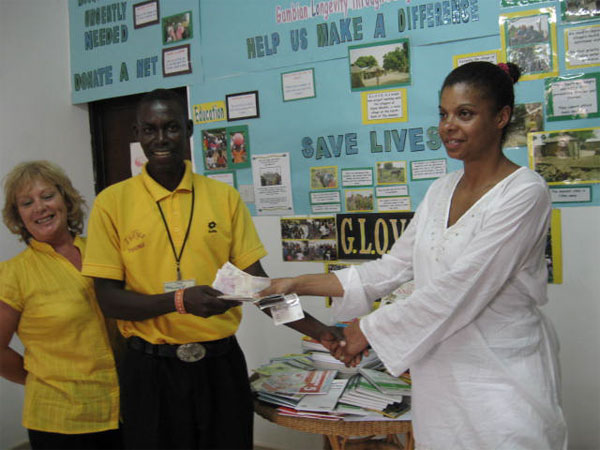 Gambian Longevity through Village Education (GLOVE), a charity registered in The Gambia in June last year, is significantly improving the lives of the villagers of Sam Mbullet in Lower Numi District in the North Bank Region.
The officials of the charity on Monday convened a press briefing at their office located at Tilly's Tours in Kololi.
Speaking at the occasion, Madam Jackie Church, founder cum Project Director of GLOVE, recounted various ways the charity is helping to improve the lives of the rural poor people of Sam Mbullet a settlement of 700 people.
She said Tilly's Tours is promoting tourism up country thus helping GLOVE achieve its objectives. Since its foundation less than a year ago the charity, through tourists coming to the Tilly's Tours, has managed to donate educational materials, medical items, vegetable seeds, cloths, a community centre, 153 treated mosquito bed nets, sponsorship for 28 children, chlorinating wells and a number of footballs. "This shows you how much tourism can be used to alleviate poverty in The Gambia," she stressed. She said that they have established a GLOVE development committee in the village in which all four tribes, men and women are represented equally.
This community, she said, lacks so many basic social amenities such as clean drinking water and a health facility just to name a few.
According to her, their focus now is on long-term agriculture through micro irrigation, small-scale enterprise development including tie and dye and soap making to enable the village to become self-sufficient.
Cognisant of the significance of farming in The Gambia GLOVE intends to work with engineers from the UK and the US to help the village with an irrigation system for the purpose of farming and to help compose fertilizer.
Madam Church emphasised that if all tour operators in the country are doing what Tilly's Tours is doing more people in the rural areas will also benefit from tourism directly. She called on the people to support Tilly's Tours in whatever way they can to enable them continue helping more people.
As part of the occasion, Mrs. Esther Shortt presented cash amounting to £500, funds she collected back in the UK, to the charity.
The occasion was attended, by Mrs. Linda Copson, Mr. Justin Edmonds, and Mrs. Linde Edmonds all GLOVE volunteers from the UK.
Mr. Abdoulie Corr, Deputy Director Tilly's Tours and Treasurer of GLOVE, said that they also plan to expand their support to other communities in the country. Also present at the occasion were staff of Tilly's Tours.
Read Other Articles In Article (Archive)