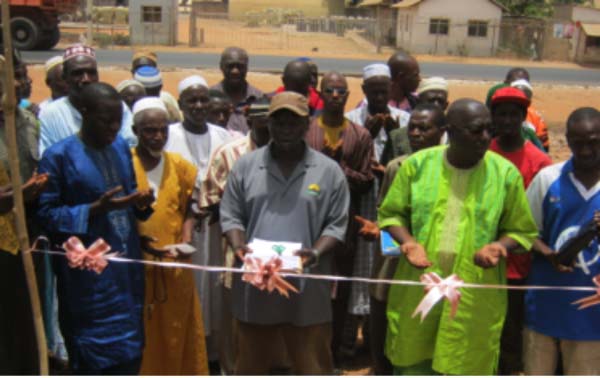 The Gambia Livestock Marketing Agency (GLMA) in collaboration with the Brikama Livestock Dealers Association Thursday inaugurated a new loading ramp at the Brikama Abattoir in the West Coast Region.
The newly-constructed loading ramp was funded by the GLMA with a counterpart contribution of ten percent by the association.
Speaking at the handing over ceremony, Ebrima Cham, GLMA director of technical field services, said the facility was requested by the operators of the livestock market in Brikama.
He said since the mandate of GLMA was to promote and facilitate the marketing of livestock efficiently in the Gambia, GLMA deemed it necessary to provide the necessary resources to construct the structure for the cattle dealers in Brikama.
Mr Cham thanked the Gambia government which provided the funds to construct the facility for the dealers at the Brikama livestock market, noting that the loading ramp would go a long way in addressing some of their major concerns, and urged them to ensure the sustainability of the facility.
The president of the cattle dealers, Anusu Bojang, said the Gambian leader provided an extension facility of water supply in Brikama, and also donated a very handsome amount towards the construction of their mosque.
Bojang commended GLMA on behalf of his association for their continued encouragement and collaboration with the cattle dealers, particularly in Brikama.
"We are very delighted to work with GLMA under the leadership of the director general, who is very much concerned over the welfare of the cattle dealers," he said.
The chairman of the Brikama Area Council, Bakary Saibo Sanneh, called for closer collaboration between institutions, so that they could work in partnership to develop the livestock industry.
He said he was more than willing to collaborate with GLMA to support the cattle dealers in order to promote their business, which was all part of national development.
Sanneh challenged the cattle dealers to listen to GLMA's advise for the sustainability of the loading ramp, while urging cattle dealers to take full ownership of the facility,and to ensure that it is well taken care of, since they have contributed a counterpart fund of ten percent.
The BAC chairman said GLMA would continue to support them, and his council would also discuss with GLMA to see how best to put all strategies in place, in supporting each other for the welfare of the cattle dealers.
He noted that both parties had demonstrated great commitment toward national development in ensuring that the loading ramp constructed for the community of Brikama, would enhance effective services delivery in executing their duties in their business. 
Read Other Articles In Article (Archive)