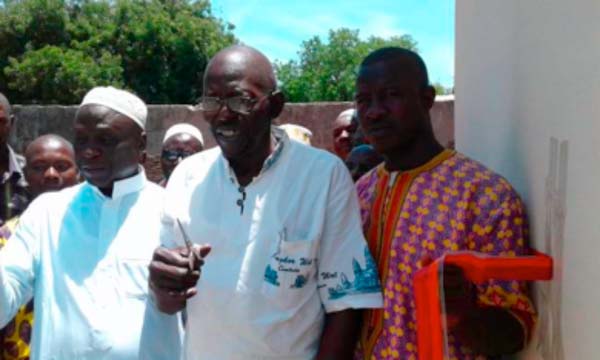 The Gambia livestock Marketing Agent (GLMA), under the Ministry of Agriculture (MOA), last Thursday 14 July 2016 handed over two toilets cubicles with birth rooms and animal drinking facilities to the Management of Abuko Central Abattoir under the supervision of Tumani Sanneh, the managing director.

This facility was meant to ensure the conformity of the livestock dealers at Abuko Abattoir Central Abattoir.
The handing-over ceremony was attended by the staff and management of the Gambia Livestock Marketing Agents, MD of Abuko Abattoir and his team of support staff, Government officials , livestock dealers, the contractor and the Media.
Speaking at the handing-over ceremony the GLMA Director General Bakary Dembo Badjie spoke at length on the importance of the facilities explaining that the project came as a result of request made by the management of the central abattoir in its drive to enhance proper hygiene at the abattoir due to the growing business and population at the abattoir.
He urged livestock dealers to take utmost care of their new toilet facilities while describing cleanness as a habit that should be adopted by all.
GLMA Director of technical field services, Ebrima Cham, commended the Government of The Gambia for creating the enabling environment, saying the construction of the facilities aims to enhance hygiene users of the central abattoir.
He advised the beneficiaries to put in mechanism to ensure that the facilities are clean and sustained.
The president of dealers 1 and dealers 2, Musa Njie and Jehdy Secka, bot expressed delight and commended the government through GLMA for their continued support to the welfare of livestock dealers and the central abattoir.
The duo thanked the GLMA in particular for their commitment to the project.
The manager of central abattoir, Kebba Tumani Sanneh, expressed appreciation to GLMA for their timely support in the provision of the two modern toilet facilities and animal drinking trough at the central abattoir.
He noted that the central abattoir is a property of Kanilai Family Farms but it services go across the nation.
Sanneh added that for the abattoir to achieve its planned objectives to meet the aspirations and needs of their service users, consumers and the general public at large, collective effort and partnership is needed.
According to him the central abattoir is a great place with huge potential for the future with real challenges which can be overcome through team work and collaboration.
Omar Njie and Aja Marie Ceesay, GLMA board of directors, both highlighted the significance of the facilities, saying it will address the health and sanitary aspect of the abattoir.
They advised the beneficiary to make best use of the facilities.
They also urged the livestock dealers and the management of the abattoir to unite and work for the advancement of the central abattoir.
Read Other Articles In Article (Archive)