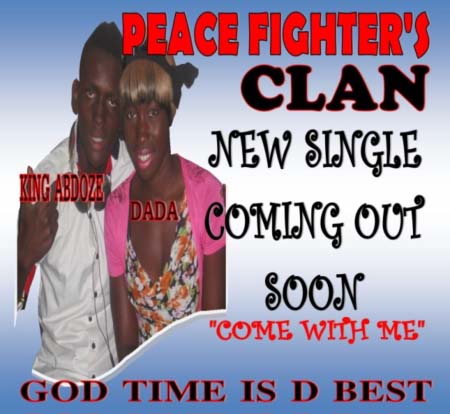 Ghetto Soldiers Movement, a crew of upcoming singers, has released its debut single entitled 'Come with me'.
The song was produced by Ghetto Boys Music Production.
The movement comprises King Abdoze and Mariama alias Dada.
King Abdoze, a graphic designer lead singer, describes the song as a love song written and dedicated to all lovers.
"It teaches lovers to come together no matter how tough the road might be: one thing must get better," he told Entertainment and Lifestyle recently.
He said as upcoming artistes they want to advocate addressing issues affecting the society, especially in entertaining and educating the masses through music.
"We believe that through music we can make positive changes in the society and humanity at large, as we endeavour to spread positive words in advocating peace since peace is an invaluable icon in the world," he explains.
Bakary Ceesay, alias Baks, manager of Peace Fighters Clan, is an upcoming singer who believes that music can be used as social change and transformational tool of society.
"We want to base our singing on advocating addressing issues affecting the society and we are open to partnerships from all walks of life," he said.
"We are urging stakeholders to support and embrace Gambian upcoming talents in realizing their dream in educating and entertaining the people."
This is just the beginning, he said, adding that they should expect more captivating and human interest music from the Peace Fighter's Clan.
Read Other Articles In Article (Archive)