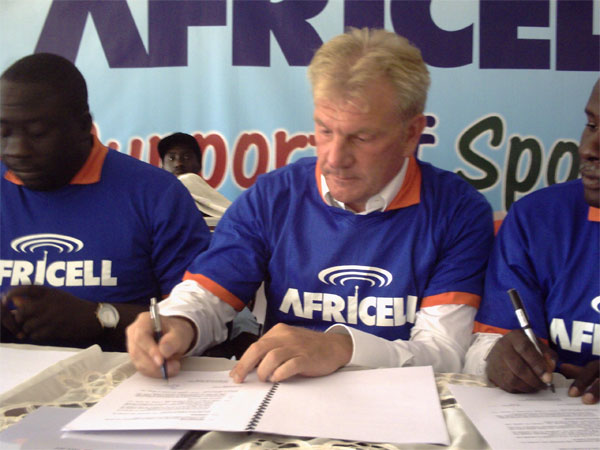 Following the hot debate in the country about a foreign coach over the years, The Gambia Football Association (GFA) yesterday signed the Belgian coach Paul Put at President Jammeh's Joint Officers Mess in Kotu.
Speaking at the signing ceremony, the First Vice President of the GFA, Major General Lang Tombong Tamba, said this is the first time in the history of Gambian Football that the GFA has hired the services of a foreigner as coach and not just as technical assistance.
He stated that the GFA wants to compliment the efforts of the Department of State for Youths and Sports and that is why they have hired the services of a foreign coach.
VP Tamba commended Africell for coming to their aid to secure the services of a foreign coach at a time when the country needs it most.
"The GFA was supposed to provide accommodation and transport for the coach but President Jammeh came to their rescue by providing both accommodation and a vehicle for the coach," VP Tamba revealed. He also commended the proprietor of Sea View Hotel, Hatib Janneh Junior, for his support and intervention in the process of signing the new coach.
In his statement at the ceremony the President of the GFA, Seedy MB Kinteh, challenged the coach to make sure that The Gambia qualify for both Angola and South Africa. "You have a big task ahead of you," he said.
Commenting on the contract agreement, Mr Kinteh stated that they have signed a one-year agreement with the coach, which is subjected to termination with one month's notice. He told those gathered that Africell has paid the coach two months in advance. He also seized the opportunity to commend Africell for living up to their social responsibility.
Delivering a statement at the occasion Africell, Managing Director Mr Badara Mbye, said Africell have been in support of the Government development initiatives since day one. "We have a very good cordial relationship with the GFA and it will continue from strength to strength," he noted.
For his part, the permanent Secretary of the Department of State for Youths and Sports, Mambanyick Njie, commended Africell for the good initiative and urged the private sector to emulate them and support Gambian sports.
Coach Paul Put said his mission in The Gambia is to be successful and to get good results for the country.
He appealed to Gambians to give him all the necessary support in order to achieve his dreams.
Commenting on the preparation, Coach Put said he would do everything possible to prepare the team both mentally and physically ahead of the Gambia Liberia game schedule for the first of June.
He will be assisted by Coach Peter Bonu Johnson.
Read Other Articles In Article (Archive)