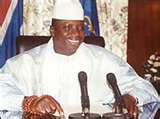 Abdou Salam Jammeh,  assistant secretary general of the Gambia Football Association (GFA), has applauded the valuable contribution and support rendered to the FA by the  Gambia government towards the participation of the Gambia national U-17 team in the recently ended CAF U-17 youth tournament in Rwanda.
The Gambia national U-17 team, it would be recalled, were among eight other countries that took part in the CAF U-17 youth tournament in Kigali, Rwanda, where the team endured a miserable campaign and got eliminated in the first round amidst angry reactions by the Gambian fans.
The team's trip to Rwanda was however made possible thanks to the support of the Gambia government under the leadership of President Yahya Jammeh, through the Ministry of Youth and Sports and its partner 'The Gambia for Gold' fundraising committee.
Few days after the team 's arrival from Kigali, the Gambia Football Association held a press conference to analyse the Baby Scorpions' woeful campaign which saw them break the country's impressive record at the continental youth tournament by conceding seven goals in three matches.
But the GFA general secretary, Abdou Saalam Jammeh, who chaired last Sunday's press conference, used the opportunity to heap praises on the Gambian leader and the government for what he referred to as their significant contribution towards the U-17 team's participation to the Rwanda championship.
"We are thankful to the President of The Gambia and the Ministry of Youth and sports, and People of The Gambia for their financial and moral support; likewise we are very much encouraged with the support of "The Gambia for Gold fundraising committee led by Tombong Saidy, the coaching staff, and the players for being our very good representatives even though we came out with disappointing results," Salaam said.
He added: "We are very much grateful to the parents of the players, the individual media houses and all those who contributed significantly in one way or the other towards the team's campaign in Rwanda. Yes, the result was disappointing but if you don't know the defeat you don't go for sports.
"We are very much encouraged by the support of the Gambian leader, the ministry, the Gambia for Gold, the coaching staff and the people of The Gambia, including those in the diaspora, for their support to the team, and all of us are very much indebted for the support given to the Gambia national U-17 team."
Read Other Articles In Article (Archive)