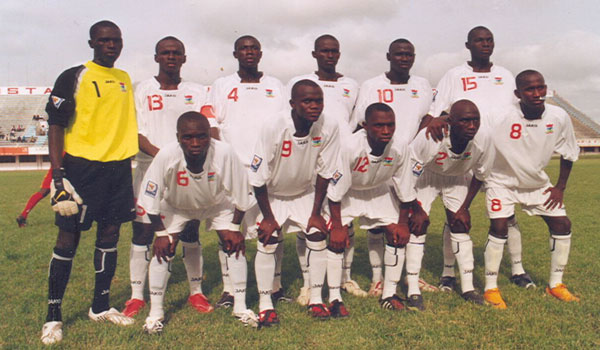 The Gambia Football Association has announced September 5th and 7th 2009, as the new official dates for the international friendly match between the Gambia's U-17 and Nigeria.
According to a press release from the GFA, the Nigerian football authorities are in the process of rebuilding a team which will be battled ready to face the Baby Scorpions on September 5th and 7th, 2009, at the Independence Stadium in Bakau and the Box Bar Stadium in Brikama.
The September warm-up matches would be a fitting farewell to the Baby Scorpions for their final training camp in the United Kingdom.
"It is with immense regret that we announce the cancellation of the proposed friendly international football matches between the Darling U-17 team and their Nigerian counterparts, slated for Saturday 8th and Tuesday 11th August 2009, at the Independence Stadium in Bakau and the Box Bar Stadium in Brikama," the release stated.
The decision for the cancellation of the two friendly matches came from the Nigerian football officials in Abuja, after 16 players of their 22 man-squad were found to be over- aged following the MRI test conducted recently.
The Gambia Football Association (GFA) would like to register sincere apology to President Jammeh, members of his cabinet, army of volunteers and the entire football fraternity in the Gambia.
The GFA would like to thank the management and staff of Gamtel/Gamcel for their support to the Baby Scorpions.
The GFA under the leadership of Mr. Seedy Buwa Kinteh would like to assure all and sundry that the second leg friendly match between the U-17 team and their Senegalese counterparts is on course, and the team would leave Banjul for Dakar on Thursday August 14, 2009.
As part of the preparations for the FIFA U-17 World Youth Championship in October in Nigeria, the Darling U-17 team will leave Dakar, Senegal on Saturday August 15, 2009 for Abuja, Nigeria for the 7th Pepsi International U-17 Football Tournament from 17th to 21st August, 2009.
The Pepsi invitational tournament will comprise six clubs, namely Liberty Professionals of Ghana, Pepsi Football Academy 1 and 2 of Nigeria, FC Johnson of Sierra Leone, Dimension FC of the Republic of Benin and the U-17 national team of The Gambia.
There will be medals for the first, second and third teams only. There will be trophies for 16 most valuable players & highest goal scorer, the team with the best defence and the team with the best attack
Pepsi Football Academy, the organisers of the event will be responsible for the return air tickets of 16 players and 4 officials, as well as their local transportation, feeding and accommodation for the duration of the tournament.
Read Other Articles In Article (Archive)