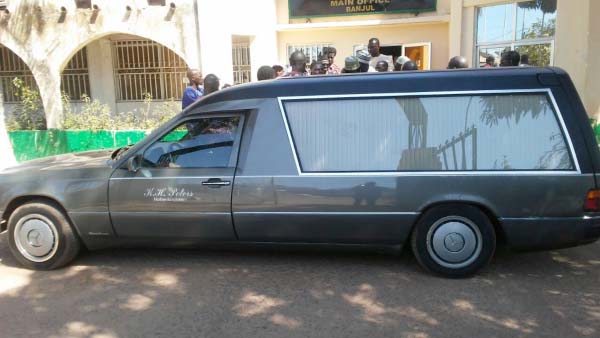 Banjul City Council (BCC) on Friday received a donation of Mercedes Benz from a native of Banjul residing in Germany. The vehicle is to be used for funeral services for the community of Banjul and The Gambia at large.

Receiving the vehicle at the handing over ceremony held at the council's premises, Mayor Abdoulie Bah of Banjul expressed gratitude for "the kind gesture" of the donor, Alhagie Bubacarr Bob.
He said the funeral vehicle would be used by both the Muslim and Christian community in Banjul and The Gambia at large.
"On behalf of the City Council and the entire dwellers of Banjul, I am thanking the donor and the entire diaspora community for their usual support to meet the needs of Banjul and The Gambia at large," Mayor Bah said.
According to the mayor, Banjul is the only local council that has funeral vans to serve the whole country.
He said when he took office in 2013, there was only one funeral van in use; the second one was not in good state then.
"The two vans were not enough, even when they were all in use. So sometimes I used to offer my personal vehicle on gratis to people to transport their dead bodies for burial to other parts of the country," he said.
"This is why I sought help from Alhagie Bubacarr Bob to see what he can do to help the council with a vehicle to help serve the people."
Mr Bubacarr Bob responded positively by donating the Mercedes Benz.
Mayor Bah said that was not the first time Mr Bob donated to Banjul; he has been helping with various projects including building toilet facilities at the main cemetery of Banjul.
Ask he thank Mr Bob, the Mayor called representation of the diaspora community at the local councils to be considered.
Alhagie Bubacarr Bob, himself, said his helps, including the donation of the funeral vehicle, is for the sake of God and part of his humanitarian services.
Read Other Articles In Article (Archive)