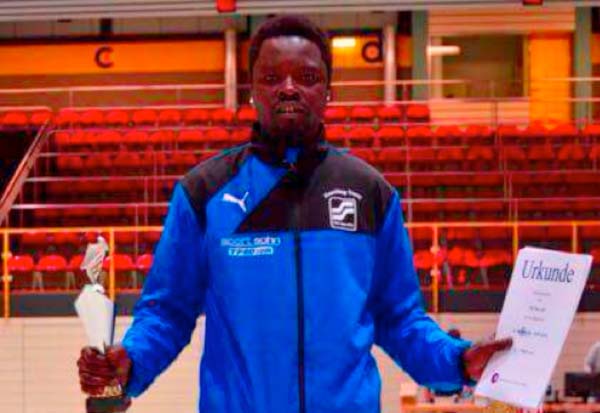 German-based Gambian coach Alieu Njie has obtained Fifa 'B' coaching licence from Oberhachingen training school in Munchen, Germany.

Njie, a native of Kiang Jiffarong in the Lower River Region, who previously featured for LRR/Kiang West regional football teams, received the licence by the governing body of world football (Fifa), at the end of an intensive series of coaching programmes for young coaches across the globe, last July.
The ambitious coach Njie, himself a former midfielder who had a brief spell in The Gambia's second tier league team Latdior, in 2001/02 season, wasted no time in grabbing the opportunity provided by Fifa through his German youth team TSV to undergo Fifa training course.
He did a vigorous 3-month practical coaching course for TSV U-19 head coach Ilija, in preparation for his Fifa 'B' licence course in 2014.
Ilija was in charge of FC Heidenheim U-17 team, a feeder team to Heidenheim in the second tier of German league at the time.
Alieu can now boast of taken a major step towards becoming a fully accredited Fifa coach.
He has since set his sight firmly on achieving greater success in his young coaching career that took him to Vfb Ulm as a contributor to the Germany youth team.
Njie, who left The Gambia for Germany in 2003, is the head coach of Tsv-Neu Ulm where he won the domestic cup winners title with a record number of 54 goals and secured 21 points.
His defense conceded only 4 goals in the run-up to the 2016 youth cup title - his second youth cup trophy in two consecutive seasons.
He was also in charge of the Tsv team that won the Euro-Sporting youth championship held in France from 14 to 16 April 2017, his first major international title since joining the club in 2013.
A first-half brace from talented young striker Leonard Dinaj was all Alieu and his team needed to clinch the French youth cup title at the expense of Swiss side FC Rot Kreuz Luzerne whom they defeated 2-0 in an entertaining final played in France.
His coaching potential came to spotlight during the Euro- championship triumph leading to reports that he could be set for lucrative coaching contract in Germany and elsewhere.
Njie, who started his coaching career in 2013, made the headline in the German sports newspapers and magazines following his appointment as head coach of Tsv, U-13 youth team on a two-year deal.
However, he is optimistic his lads could produce yet another league cup success as they remain on course to grab the prestigious league title this season.
Tsv sit second place on the league table after 4 wins in 5 games. They lost just one in the ongoing league season with the second round fixtures to come later.
"I'm hopeful that we will retain the league this season after we won it last year with 21 points and 54 goals in the build-up to the title," Njie told The Pointsport in an interview with this reporter from his base in Germany.
He also took time to heap praise on Herbert Bracknis, a veteran German coach with a wealth of coaching experience at the highest level.
"Herbert is a prominent personality in German football and has coached some of the most recognizable footballers playing in the Bundasliga," he said.
"He is the main man behind me and my team as he tries to guide me towards gaining coaching experience in his capacity as Tsv assistant team coordinator," Alieu said of the man he credited for his recent success at the club.
He hopes to build on that strength as he remain ambitious of developing his young footballers into becoming household names in world football with the ultimate desire of achieving greater coaching success on a personal level.
Alieu started his coaching career as an assistant coach of Tsv, under Ismail Tasqin, who is currently serving his son Ebrima Leon as the trainer.
Alieu had previous spells with Sportbund Ulm, Biberach and Sv Senden, and between 2004 and 09, as a midfielder. But his hope of making a mark in professional football was hampered by constant groin injuries.
He eventually opted out of soccer in favour of a coaching career when he suffered a major setback while playing in a pre-season tournament in Turkey. That injury, which required groin surgery on his right foot in 2009, also marked the end of his career as an aspiring footballer.
Alieu's coaching career saw him move to Vfb Ulm youth team where he was tasked with the role of football trainer in assistance to former Vfb Ulm head coach Cihat during a 3-month spell at the club.
Vfb had his son Ebrima Leon in their rank at the time.
The Fifa 'B' licence coaching qualification consists of 80 learning modules with focus on acquiring knowledge and conducting the technical and tactical learning processes as well as supporting junior footballers both on and off the pitch.
It is also regarded as a key requirement for conducting training programmes/activities in German professional football.
Read Other Articles In Article (Archive)