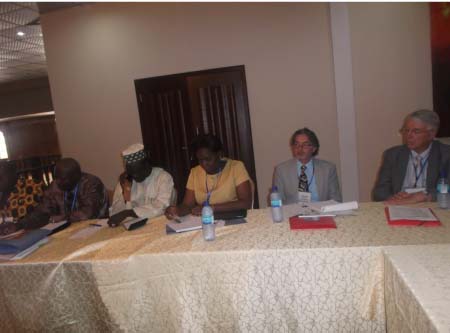 Dr Rex A. Kuye, head of Department at the Public Health and Environmental School of Health and Allied Health Sciences, University of The Gambia, has said the GEOHealth project would focus on the most pressing rural health issues in the sub-region such as water quality, workplace safety, and especially on agricultural work.
Dr Kuye was speaking at a two-day workshop on Global Environment and Occupational Health (GEOHealth) Sub-regional consensus building held recently at the Paradise Suites Hotel in Kololi.
The meeting brought together ECOWAS member countries to interact with GEOHealth staff and WAHO officials and plan in detail, research training and curriculum development needs in occupational and environmental health for the West African sub-region.
He said GEOHealth project was launched in February 2013 at the University of The Gambia, Science, Technology and innovation part at their Faraba campus.
He added that in early 2012, and in partnership with the University of Iowa, College of Public Health, the Department of Public and Environmental Health of the School of Medince and Allied Health Sciences of the UTG, won a grant from the UN-NIH for the establishment of a multi-disciplinary Global Environmental and Occupational Halth hub dubbed Geohealth in The Gambia that best meets the needs for research, research training and curriculum development for the West African sub-region.
 Also speaking, Professor Nyang said some of the issues came from the survey questionnaires the organizers sent and received from their partners in WAHO, and in the sub-region.
He said the assessment and suggested strategies for the mitigation of environment and occupational health problems in their respective countries.
Prof Nyang further said the UTG was very much committed to the success of Geohealth and most especially to their staff at the department of public and environmental health, for their dedication, high sense of professionalism and hard work towards the successful realization of all the activities of GEOHealth.
Read Other Articles In Article (Archive)