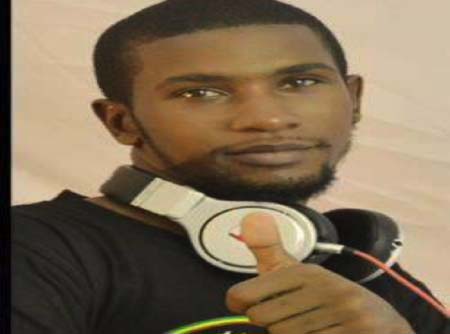 Gibou Bala-Gaye alias Gee Gambian Rap-Mbalah singer has announced that he will quit his music career, adding that it's time for him to venture into new things.
Gee, artistes of the year 2014, revealed that he is going to have a last show and quit, and some wouldn't like it, especially his fans, but to some it would be the greatest news they received in the past 5 years.
"Sorry to everyone I've let down; just wish me luck; it's all I need right now. I'm not growing any younger and 'time ammut' (no time)," he told his fans.
He added: "Besides, the disrespect in the music scene is too much, no end of promises. I'm a person if I don't see many changes for quite a while in anything I'm doing, I move on."
On 21 May 2015 he wrote the shocking revelation on his Facebook Page: "It's been my first love, something I love doing. It calms me down when I got so much in my head. I use it to heal my wounds, overcome anger."
"It's been quite a journey, from events to albums. I really thought about this before making my decision. Let's take, for example, Even my TeamGee Board from 'That Feeling' to 'Situations' albums. People grow, some are married with kids, working or started a business; people grow, that's how the world has been designed.
"The post I made yesterday about forming a body to help artist get paid their worth and control their fee, I'd still help. The mixtape I started will still drop."
He explains: "Situations Scholarship Tour was meant for this week, but I've got ear infections and it's painful, trust me. It's been keeping me up all night these past days. I can't even listen to music. It shall begin next week."
He stressed that sometimes one needs to put his dream aside, and work on his or her children's so they could have one.
"My manager X-myls, Latirr Carr, Hakim Samadhi and ShyboyDiproducer I couldn't have done it without people like you. These are the people I can never repay all, even if I gave you all Billion Dalasi each. We stopped working with each other a long time ago n became family. TeamGee, people that supported me, from fans to everyone I've ever worked with.
"My family people I've been around since kindergarten with Kabba, Samba, Momar, Malyka Taal , Ab Jawara , FaderrBlak, Artist Of TheYear award a while back; everyone that believed in me and voted for me. Everyone with the surname "Bala-Gaye".
"Thank you Comium and RLG for your support on that. Like I said it's been quite a journey."
About Gee
GibrilBala Gaye, better known as Gee, was born on 3 July 1987 at Westfield, and then grew up in Pipeline. Gee attended Marina International School from his nursery to high school, but later went to Cates International Academy. Gee also attended college in the United Kingdom (UK).
At age 23, Gee has evolved into one of Gambia's most talented and hardworking artistes. This is evident in the numerous solo projects he has successfully completed with absolutely no financial assistance.
Gee possesses world-class proficiency when it comes to his lyricism and musical arrangement, as this is unmistakably apparent in his songs. His discography includes three hip-hop albums and a mix tape.
Behind the scenes was a collaborative album with Sweden-based rapper Nube, and was laced with basic bass-and-kick driven rhythms over fundamental raps chronicling street experiences of the two young emcees.
Featured on the project were a few upcoming names, among them She Romeo, a female R&B crooner featured on a couple of cuts, and most notable amongst them was Mary Jane, which instantly got transformed into a street classic. The album had only one video titled "Wat time iz it" featuring KanasuBarz of the DLC.
'Freedom of Speech' was his sophomore effort and showed more diversity than its predecessor in more ways than one, especially on the production end. The album had more stand-out singles as well and Gee's exceptional delivery made it all the more listenable.
Of noteworthy mention are Banjul, Dakar to Holland ftRhymzter a Dutch hip-hop artist and "Age is a Weapon" featuring Da LyrikalCypha. Both songs were transformed into videos and have been premiered on the "FiiLa" TV Show on GRTS.
In 2010 Gee offering came out with an album titled 'Never too Early'. This album was preceded by a mix-disc also titled Never Too Early, it served as a teaser in building up anticipation for the Never Too Early album.
The release of Never Too Early in December 2010 was an important milestone in Gambian music circles, and is inclined to take hip-hop in the Gambia to a new threshold.
This album embodies the definition of hip-hop as defined by the art form itself, but with a true Gambian identity.
Most of the production was done by a Swedish producer called Jatrix, who works for an independent label Nordic Steel.
Jatrix has more than a decade of musical work experience as a producer and worked for Universal Records, which is one of the world's biggest record companies.
Jatrix's very versatile productions coupled with Gee's lyrical proficiency would give hip-hop-heads a lot of things they can relate to.
A few artistes have been featured on the Never Too Early project and they include the following: She-Romeo (Gambia), Snow Eazy (Gambia), Essay (Sweden), Fata (Senegal), Nix (Senegal), Nube (Sweden), and the La Cosa Nostra Family.
Gee has also been prominently featured on "Grounded DVD Vol.1" which was the first locally-made hip-hop DVD magazine. He has also been on noteworthy audio compilations such as "Dont Get It Twisted", Unplugged" etc.
Of late, he has been featured on stellar projects such as the recently released "Shout Gambia DVD", which is the first-ever documentary on the emerging music scene in The Gambia. The song that is on everyone's lips right now is the Hakim produced hip-hop, R&B Mbalax hybrid titled "Yow LaaBuga" with Mariam Sowe a Gambian singer based in California.
He has made the performance list of the annual all-Gambian Open Mic Festival for the past six years due to his hard work and dedication.
In 2012 he released another album entitled "That Feeling", 2014 album "Situation" and of recent he has collaboration with Senegalese musicians including Viviane, Wally Secka, Aida Samba and Fata.
He also has collaboration with Nigerian Afro beat singer Wizikid.
Gee is widely described as a controversial singer, and has a beef with his fellow artistes including T. Smallz, Killah Ace, Africell, Gambians in the Diaspora and Capital FM on issues relating to his music career.
Read Other Articles In Article (Archive)