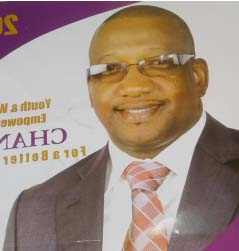 Mamma Kandeh, leader of the Gambia Democratic Congress (GDC), has said the GDC would never challenge the December 1 Presidential election results.

He made this remark on Friday at a press conference held at the Baobab Hotel and Resort.
Kandeh added that "the position of the Gambia Democratic Congress does not change", because they were defeated by the president-elect, Adama Barrow, and are, therefore, not going to challenge the results of the December 1 presidential election, after accepting defeat.
He said the GDC has a very important role to play in the current political impasse The Gambia is facing
"We want to emphasise clearly that the problem we are facing can be resolved peacefully, as we are not encouraging any form of violence or military intervention within or outside of the country because our situation can be solved on the table," he emphasised.
He said what is happening is that The Gambia has a constitution which he believes every Gambian respects, because the constitution is allowing Gambians to go to the polls every five years to select and vote for a candidate of their choice, and Gambians did just that by electing Adama Barrow as the president.
Therefore, he added, every Gambian respects what the constitution says, and that was why all of the three candidates for the December 1 Presidential election went to the Independent Electoral Commission (IEC) to be nominated by fulfilling all the requirements the IEC requested for.
All this, he went on, is a form of exercising one's rights as a citizen of a country, and the same constitution also stated that if the incumbent is defeated he should hand power within 60 days; that is why Adama Barrow was not sworn in immediately as the president, after winning the election.
He said both the Coalition and President Jammeh should respect the constitution.
Many a time, both President-elect Barrow and President Jammeh would talk of peace and unconditional love for Gambians, Kandeh continued.
"Let them open the line of communication and talk in a form of dialogue so that the problem will be solved within, because there is no given situation in the country Gambians cannot resolve."
Kandeh added: "I'm calling on President Jammeh and President-elect Barrow, and including the GDC to come together and give a lending hand to amnesty and resolve our differences peacefully, on our own without foreign intervention."
Read Other Articles In Article (Archive)