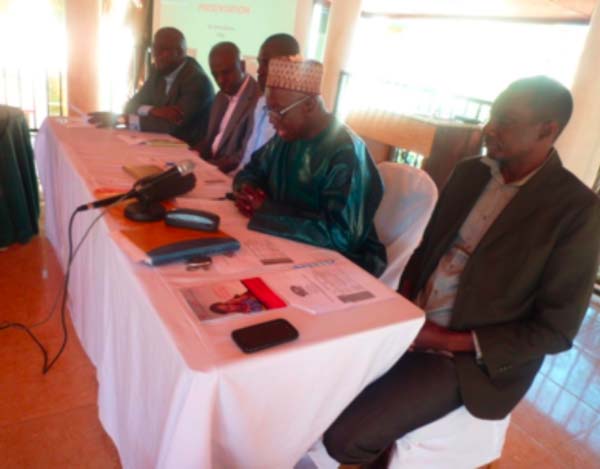 The Gambia Competition and Consumer Protection Commission yesterday convened a daylong consultative meeting with consumer groups, at the GCCPC office in Kotu.
The meeting was convened following the enactment of the Consumer Protection Act in April 2014.
The commission and consumer groups were given the opportunity to discuss the Consumer Protection Act, and charted the way forward for fruitful collaboration.
Speaking at the press briefing, Ousman Bojang, Senior Trade Economist, congratulated the GCCPC for a great achievement by establishing the consumer protection unit, appointing its officers and the effective functioning of the unit.
He also said the commission is proud to acknowledge the efforts of the consumer groups, and commended them for their hard work.
It is important to note that the commission by nature has a special obligation to be alert to the needs of consumers to advance consumer interest, he added.
Under the Consumer Protection Act, the main objective of the commission is to "protect consumers from unfair and misleading market conduct," Bojang went on. 
"Given the history of consumer protection in The Gambia and its fragmented approach, we are now very fortunate to see that the rights of consumers is contained within one exhaustivedocument outlining consumer rights and duties," he stated.
He said consumers for the first time in the history of The Gambia are being protected from dangerous goods that may be flooding the Gambian markets.
Consumers are now given the right to make informed decisions, and right choices in accessing goods and services, he further stated.
The main objective of the Gambia Competition Act 2007 is to prevent anti-competitive conduct, thereby ensuring competition and efficiency in business, resulting in the greater choice for consumers in price, quality and service, he said.
These two strong legal tools afford to the consumers a complete and effective protection, he added.
"We are all consumers, and we are the largest economic group in the economy, affecting and affected by almost every public and private economic decision," he noted.
He added: "This consultative meeting between the GCCPC and the various consumer groups in The Gambia is a very important forum, and a very positive step in the right direction.
It gives the commission the opportunity, he continued, to welcome itself to consumers and be very clear about its mandate under the Act.
Furthermore, he went on, it gives the consumer groups the confidence to know that their various aims and objectives have a supporting umbrella body working hand in hand with them to enforce the Consumer Protection Act.
Amadou Ceesay, Executive Secretary of the GCC, said the consumer Protection Act 2014 was enacted by the National Assembly in April 2014 and assented to by the President on 12 May 2014.
Consumer protection is a necessity for The Gambia, and the GCC would not attempt to take credit for the introduction of consumer protection Act, Ceesay added. 
Read Other Articles In Article (Archive)