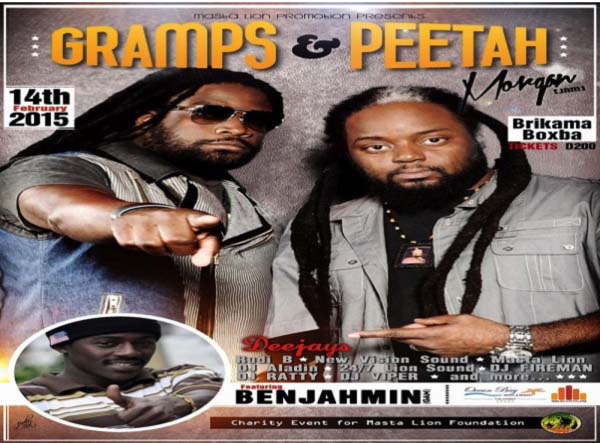 Gramps and Peetah of the famous Morgan Family Band are expected to be in The Gambia for a charity concert for Masta Lion Foundation on Education in The Gambia, on 14 February 2015 at Brikama Box Bar Mini Stadium in the West Coast Region.
The event will attract Gambian Reggae singers like Benjahmin, ENC Philan Trophy, Baba Blood, Daddy Boston, Royal Messenger DJ Rudi B of New Vision Sound, DJ Aladin of 24/7 Lion Sound, DJ Ratty, DJ Viper, DJ Masta Lion and DJ Fireman of the Firehouse Crew.
It will be held from 14th Feb at Brikama Box Bar; 15th Feb at SK West Park; 16th Feb at Club 22
and 17th and 18th Feb at Galaxy Park; followed by a Concert and Gala Dinner to mark Gambia's 50 years of independence celeberation and golden jubilee.
The charity concert was organised by Masta Lion Promotion, based in Finland, and the proceeds are meant to support Masta Lion Foundation on Education in The Gambia.
Masta Lion, a Helsinki-based Gambian Disc Jockey, said the main idea behind the 14th February show is a charity event for Masta Lion Foundation, which is sponsoring over 50 students in The Gambia.
"The foundation is in touch with some schools to get hardworking students in our sponsorship list. I believe that education is the only way that can develop any nation," he said.
He added that the foundation has an office in Brikama opposite the Red Cross office, and if any parent has difficulties in paying the school fees of their children they can come forward, provided that the student is doing well in school.
"We intend to make the charity show annually to enable us to adjust our sponsorship list every year or sponsor students up to university level," the Brikama-born DJ said.
He added that being a Gambian, he feels it is necessary to contribute his quota in the education of young people who have a huge potential.
Ba Jamba Jatta, Marketing Manager Masta Lion Promotion, said all is set for the event and they are working hard to attract sponsors for the concert.
"As at now, we have approached Ocean Bay Hotel for booking of four rooms, Gambia Bird for air-ticket and the National Centre for Arts and Culture."
According to him, the foundation is sponsoring fifty students in junior school, high school, the Management Development Institute (MDI) and Gambia Technical Training Institute (GTTI).
"We also repaired a public tap in Brikama Santa Su, and gave loans to people to start up a business venture for themselves."
We are planning to host the Brikama marathon and inter-schools competitions open to schools within Brikama in March 2015, he said.
Jatta noted that the foundation is open to partnership and any individual or institutions which want to sponsor the cause can come forward.
He urged the residents of Brikama to come all out and support the event for the benefit of future generations and The Gambia.
After the charity concert, Gramps and Peetah Morgan will join Gambian artistes in the 50th anniversary of Gambia's independence celebration.
Bakary Ceesay, media relations officer Masta Lion Promotion, described the charity concert as a worthy cause which all residents in Brikama should support.
He added that development of any nation depend on how many educated people they have, as they are the engine of growth.
"We hope Peetah and Gramps Morgan will educate, entertain the Gambians during their stay in The Gambia," he said.
Read Other Articles In Article (Archive)